Acquired immunodeficiency syndrome (AIDS) is a chronic, potentially life-threatening condition caused by the human immunodeficiency virus (HIV). It damages the affected person's immune system and interferes with their body's ability to fight the organisms that cause disease.
HIV is a sexually transmitted infection (STI). It also spreads by contact with infected blood or from mother to child during pregnancy, childbirth or breastfeeding. Without medication, it might take years before HIV weakens your immune system to the point that a person develops AIDS.
Needless to say, there's no cure for HIV/AIDS yet, but there are medications that can dramatically slow the progression of the disease. These drugs have reduced AIDS deaths in many developed nations.
Symptoms: depending on the phase of infection, the symptoms of HIV and AIDS varies.
Primary infection (Acute HIV)
Most HIV-infected people develop a flu-like illness within a month or two after the virus enters the body. This illness, known as primary or acute HIV infection, may last for a few weeks.
Possible signs and symptoms include:
Fever

A headache

Muscle aches and joint pain

Rash

A sore throat and painful mouth sores

Swollen lymph glands, mainly on the neck
These symptoms can be so mild that it might not even be noticeable. However, the amount of virus in the bloodstream (viral load) is quite high at this time. As a result, the infection spreads more easily during primary infection than during the next stage.
Clinical latent infection (Chronic HIV)
In some people, persistent swelling of lymph nodes occurs during this stage. Otherwise, there are no specific signs and symptoms. HIV remains in the body and in infected white blood cells. This stage of HIV infection generally lasts around 10 years if you're not receiving antiretroviral therapy. But sometimes, even with this treatment, it lasts for decades. Some people develop more severe disease much sooner.
Symptomatic HIV infection
As the virus continues to multiply and destroy the immune cells — the cells in your body that help fight off germs — they may develop mild infections or chronic signs and symptoms such as:
Fever

Fatigue

Swollen lymph nodes — often one of the first signs of HIV infection

Diarrhea

Weight loss

Oral yeast infection (thrush)

Shingles (herpes zoster)
Progression to AIDS
Thanks to better antiviral treatments, most people with HIV in the U.S. today don't develop AIDS. Untreated, HIV typically turns into AIDS in about a decade.
When AIDS occurs, a person's immune system has been severely damaged. they'll be more likely to develop opportunistic infections or opportunistic cancers — diseases that wouldn't usually trouble a person with a healthy immune system.
The signs and symptoms of some of these infections may include:
Soaking night sweats

Recurring fever

Chronic diarrhea

Persistent white spots or unusual lesions on your tongue or in your mouth

Persistent, unexplained fatigue

Weight loss

Skin rashes or bumps
Managing AIDS- Approach Considerations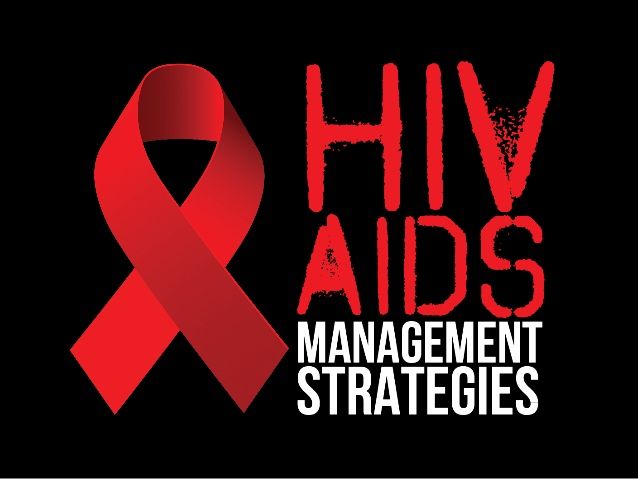 HIV treatment depends on the stage of the disease and any concomitant opportunistic infections. In general, the goal of treatment is to prevent the immune system from deteriorating to the point that opportunistic infections become more likely. Immune reconstitution syndrome is also less likely in patients whose immune systems are weakened to this point.
Highly active antiretroviral therapy (HAART) is the principal method for preventing immune deterioration. In addition, prophylaxis for specific opportunistic infections is indicated in particular cases. Successful long-term HAART results in a gradual recovery of CD4 T-cell numbers and an improvement of immune responses and T-cell repertoire (previously lost antigen responses may be restored). The peripheral T-cell counts initially surge after therapy is initiated, but this represents a redistribution of activated T cells from the viral replication centers in the lymph nodes rather than a true increase in total-body CD4 T-cell counts.
In addition to virologic response and reduced risk of opportunistic infection, there is evidence to suggest that non-AIDS-defining illnesses, in particular, psychiatric and renal disease, may also be reduced when on HAART. Although multifactorial in nature (transmission mode and patient educational level are independent risk factors for these events) there may also be a direct role of HIV in these events or an indirect role mediated through the subsequent immune dysfunction. Some non-AIDS-defining illnesses, such as liver and cardiovascular disease, are not improved by HAART.
Treatment guidelines for HIV infection are age-specific. Guidelines for pediatric populations are compiled by the Working Group on Antiretroviral Therapy and Medical Management of HIV-Infected Children;
Primary care interventions
The Infectious Diseases Society of America (IDSA) has issued the updated guidelines in November 2013 for the management of HIV infection. Because of advances in management, HIV-infected patients are now having fewer complications and surviving longer; as a result, they are increasingly experiencing common health problems seen in the general population, and these problems must be addressed.
Accordingly, the updated IDSA guidelines emphasize the role of primary care interventions, as follows:
HIV-infected individuals should undergo screening for diabetes, osteoporosis, and colon cancer as appropriate and should be vaccinated against pneumococcal infection, influenza, varicella, and hepatitis A and B

Lipid monitoring and management of lipids and other cardiovascular risk factors should be performed

Patients with well-controlled infection should undergo blood monitoring for viral levels every 6-12 months

Women with HIV should undergo annual trichomoniasis screening, and all infected patients who may be at risk should undergo annual screening for gonorrhea and chlamydia
HIV treatments have come a long way in more than three decades since the virus was first identified.
There are Powerful antiretroviral drugs (ARVs) that can now keep the virus controlled at levels that current tests cannot detect in the blood. Perhaps just as important, those who take these drugs diligently soon after they're infected with HIV are unlikely to pass the virus to others. But the treatment isn't perfect. Those with HIV need to take a pill every single day for the rest of their lives, and even if they do, the virus can easily morph to become resistant to the drugs. This is why patients on ARV treatment should faithfully monitor their virus and cycle between different combinations of drugs.
Finding new, easier ways to treat HIV more effectively and prevent its spread is, therefore, an urgent priority, and researchers are now looking beyond every day administering drugs to therapies that might provide people with more lasting protection.
Disease

Management

- Future Trends
While there is no cure for HIV yet, the advances in treatment have made it possible for AIDS patients to live long and lead healthy lives. There are also certain tools to halt the epidemic through treatment, prevention and education. However, a cure would expedite this goal and facilitate the global eradication of HIV/AIDS. Due to the nature of HIV infection, a cure for HIV can also be defined in two ways: treatment-free remission and viral eradication.
If people with ART(antiretroviral therapy)-suppressed HIV stop taking their medication, virus from the reservoir rebounds to high levels. Sustained ART-free remission, sometimes called a functional cure, would allow a person living with HIV to keep the latent virus suppressed without daily medication.
In a viral eradication cure scenario, HIV would not only be undetectable in the blood but also would be completely absent from an individual's body. Viral eradication research is generally expected to require two experimental strategies to be used in conjunction with one another. The first step is to prompt latent HIV to replicate so that the infected cell expresses HIV proteins. The second step involves enhancing the immune system of the person living with HIV or employing other agents to recognize and kill the cells expressing HIV proteins, thereby clearing the latent virus from the body.
Future Directions for HIV Treatment Research: A major goal of NIAID-supported research on HIV treatment today is to develop long-acting therapies that could be less often. Such long-acting therapies might be easier for some people to stick to than daily pills, and might also be less toxic and more cost-effective. The three types of agents under study are long-acting drugs, broadly neutralizing antibodies, and therapeutic vaccines.
Long-Acting Drugs:
To develop a new array of drugs for HIV treatment that include longer-acting pills, injections, patches, and implants
Broadly Neutralizing Antibodies:
The aim is to Develop and test multiple antibodies for the treatment of HIV. Antibodies are good candidates for treatment because they have few side effects and can be modified to ensure they last a long time in the body, suggesting that dosing could be every other month or even less often. Importantly, the antibodies under investigation can powerfully stop a wide range of HIV strains from infecting human cells in the laboratory and thus are known as broadly neutralizing antibodies or bNAbs.
Therapeutic HIV Vaccines:
Unlike a vaccine designed to prevent HIV infection, a therapeutic vaccine is meant for people already infected with the virus. Such a vaccine would stimulate the immune system to be ready to control any future emergence of HIV and thereby end the need for further therapy, perhaps save periodic booster shots. Such an approach could lead to sustained viral remission, meaning treatment or vaccination that would result in prolonged undetectable levels of HIV without regular antiretroviral therapy.
Future Directions for Developing Daily HIV Drugs
Drugs with unique mechanisms of action for daily antiretroviral therapy would be effective against HIV strains with resistance to other drug types.

Drugs that target other parts of the HIV lifecycle.

Capsid assembly inhibitors, which halts construction of the viral capsid.
https://www.mayoclinic.org/diseases-conditions/hiv-aids/symptoms-causes/syc-20373524
https://emedicine.medscape.com/article/211316-treatment
https://www.niaid.nih.gov/diseases-conditions/future-hiv-treatment
https://labiotech.eu/features/hiv-cure-2020-research-review/
https://www.newscientist.com/article/mg23731710-100-the-future-of-hiv/
https://www.ddw-online.com/therapeutics/p92867-hiv-therapy-pastpresent-and-future-summer-08.html
http://www.thebodypro.com/content/80960/the-evolution-of-antiretroviral-therapy-past-prese.html?ic=intxt
http://www.thebodypro.com/content/80975/the-future-of-hiv-therapy.html
http://time.com/5190960/no-cure-hiv-but-scientists-getting-closer/
http://time.com/5455488/future-of-hiv-treatment-pills/
https://www.avert.org/professionals/hiv-science/searching-cure
https://www.contagionlive.com/publications/contagion/2017/may2017/how-close-are-we-to-a-cure-for-hiv
Comments (1 Comment)