What is Healthcare management?
Healthcare management is the field relating to leadership, management, and administration of public health systems, health care systems, hospitals, and hospital networks in all the primary, secondary, and tertiary sectors. Healthcare management ensures that specific outcomes are attained, that departments within a healthcare facility are running smoothly, that the right people are in the right jobs, that people know what is expected of them, that resources are used efficiently and that all departments are working towards a common goal for mutual development and growth.
Why is Healthcare Management Important?
Without a good healthcare management system, a healthcare facility would not be able to effectively care for patients, keep good staff or make a profit. Here is valuable information about healthcare management.
Healthcare Management Vs. Healthcare Administration
Healthcare management is a developing industry pertaining to administration, management or oversight of healthcare systems, public health systems, hospitals, entire hospital networks or other medical facilities. Per the Bureau of Labor Statistics, healthcare management jobs are anticipated to see a growth of 22 percent in the decade between 2010 and 2020. With the aging population and increase in life expectancy due to medical advances, the need for healthcare providers and facilities is growing. Thereby, the need for professionals to manage healthcare facilities is also expected to grow.
Among many other responsibilities, the main duties of healthcare management professionals are to ensure that individual departments in healthcare companies run smoothly, qualified employees are hired, information is disseminated efficiently throughout the organization, specific outcomes are reached and resources are used efficiently. The general healthcare managers are considered specialists who oversee entire facilities, while the specialists focus on the administration of specific departments like marketing, finance, policy analysis or accounting.
These two terms (healthcare management and healthcare administration) have been mistakenly used interchangeably, and many believe they both mean the same thing. However, they are two different things. While Healthcare management is in charge of the entire healthcare organization,  healthcare administration takes care of the staff and employees. And while the healthcare manager determines if another employee should be hired, the healthcare administrator takes charge of hiring staff for a specific department. A healthcare manager is the one who decides on the treatment, the number of staff and how each department should be run, whereas, a healthcare administrator will determine the best ways to help staff be more efficient at their jobs and will understand the type of treatment they facility will provide to patients.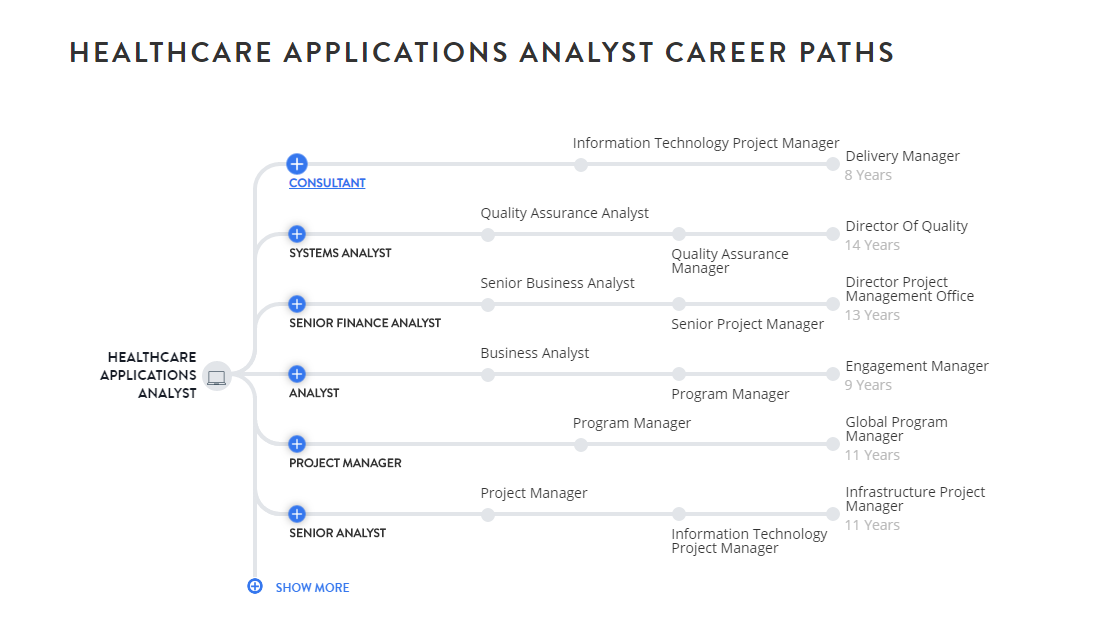 Source: Zippia - Healthcare Career Paths
Healthcare Management: What's Ahead?
The economic, technological, social and healthcare environment has been constantly evolving and this has prompted hospitals to evolve accordingly to keep up with such changes. Also, with the increasing number of private players foraying into the healthcare market the existing hospitals are compelled to devise new strategies to improvise the existing methods of hospital management. Health care providers should keep updating themselves with these changing trends in order to flourish in the current healthcare environment.
Some of the upcoming trends include: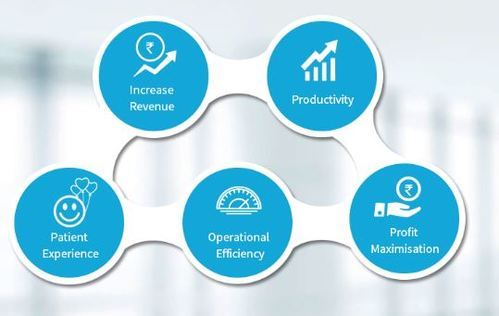 Investing in Latest Technology

such as hospital management software, high-end medical equipment, medical record storage, RFIDtechnology, designing high-risk areas like ICU, OT, etc. One of the better examples of this is the EHR system used by Reputed Hospitals across the US, which provides fully digitized data to its patients and its stakeholders.
Data Collection using Wearable Health Technology- Healthcare organizations have already started taking advantage of the data wearables can provide, and this trend will continue to gain traction. Wearable technology can track health metrics such as heart rate, activity level, and sleep patterns. This type of information is incredibly valuable to healthcare organizations because it helps them understand the current health status of patients who have opted-into this data sharing. Apart from guiding marketing efforts, analyzing the data from wearable technology can be leveraged on the clinical side.
Patient Engagement & Relationship Management- The consumer-driven model of healthcare prompts the healthcare management to largely focus on patient engagement models that assist in building relationships and helps improve customer satisfaction. This includes- Introduction of patient portals, follow up calls to patients post surgery or procedure, the formation of patient groups are some of the steps taken by hospitals in this regard.
Expansion Strategies

needs to be built since there has been an increase in the occupancy rates among a majority of the multi-specialty hospitals. Foreign private equity has been observed to be a popular choice for these expansions.
Partnerships with Community Organizations to improve the overall health of patients of low socioeconomic statuses,healthcare organizations must appeal to these patients in meaningful ways. An effective way to achieve this objective is to work closely with community organizations that service these populations.
Building eICUs

- Insufficient access to critical care facilities in rural areas, eICU centers are being set up by hospitals. Shortage ofcritical care doctors and unavailability of infrastructure in rural areas has created a need for these eICU's.
Digital Security of IoT and AI- With the Internet of Things (IoT), health systems can access and analyze new patient data-sets frommedical devices, apps, wearables, home monitors, and more. Artificial Intelligence (AI) and applied analytics help healthcare organizations with administrative and marketing tasks, automating outreach by accessing patient data. While these technologies improve health outcomes and save health systems time and money, they also increase vulnerability to cybersecurity breaches.
Social Media Marketing

helps hospitals make their online presence felt on social sites such as Twitter, LinkedIn, Facebook, etc.
Leasing of Medical equipment

to reduce capital investment and help balance the cost and provision of best medical technology simultaneously has encouraged hospitals to experiment with newer models. Leasing of medical equipment is one such model where the asset is leased for a period of time instead of being purchased.
Developing Daycare models

- Advancement in surgical techniques like keyhole surgery, effective pain management, and competent post-operative care has facilitated hospitals to adopt day care surgery model. While it helps in cost containment, it also causes minimal disruption in the patients regular routine which in turn helps improve customer satisfaction.
Improving Vaccine Rates-

Vaccinations are the cornerstone of population health efforts. However, recent CDC studies show immunization rates of certain infectious diseases have declined. One primary population health goal will be raising vaccination rates for diseases that have seen declines. Those choosing not to receive vaccinations are considered at-risk populations, so healthcare organizations need to properly identify, target, and connect with such populations.
References
https://www.techneconhealthcare.com/blog/changing-trends-in-hospital-management.html
https://en.wikipedia.org/wiki/Health_administration
https://www.healthcare-management-degree.net/faq/what-is-healthcare-management/
https://www.evariant.com/blog/population-health-trends/


https://www.thetoptens.com/healthcare-management-companies/




https://www.zippia.com/healthcare-applications-analyst-jobs/#career-paths
Comments (5 Comments)