Communications Infrastructure in basic terms involve technology, products and network connections that allow for the transmission of communications over large distances.  This involves areas from single-purpose networks, to the advent of converged, multi-purpose networks.
Communication infrastructure is the backbone of the communications system upon which various broadcasting and telecommunication services are operated. This can be built from copper cable, fiber, or wireless technologies utilizing the radio frequency spectrum, such as microwave and satellite. The infrastructure is the core component that connects upstream production, such as voice, data and audiovisual services, with downstream consumers.
Voice, Audio, Data, and Video; these once completely singular communication media are commonly deployed across one converged network.  This integration of multiple media is increasingly important to enterprises as they pursue ways to optimize expenditure, minimize operational cost, and maximize the scope of their project.
Communication - As aSector
The Communications Sector is an integral component of country economy, underlying the operations of all businesses, public safety organizations, and government. Communications Sector is critical because it provides an "enabling function" across all critical infrastructure sectors. Over the last 25 years, the sector has evolved from predominantly a provider of voice services into a diverse, competitive, and interconnected industry using terrestrial, satellite, and wireless transmission systems. The transmission of these services has become interconnected; satellite, wireless, and wireline providers depend on each other to carry and terminate their traffic and companies routinely share facilities and technology to ensure interoperability.
Communication Infrastructure - Basic Architecture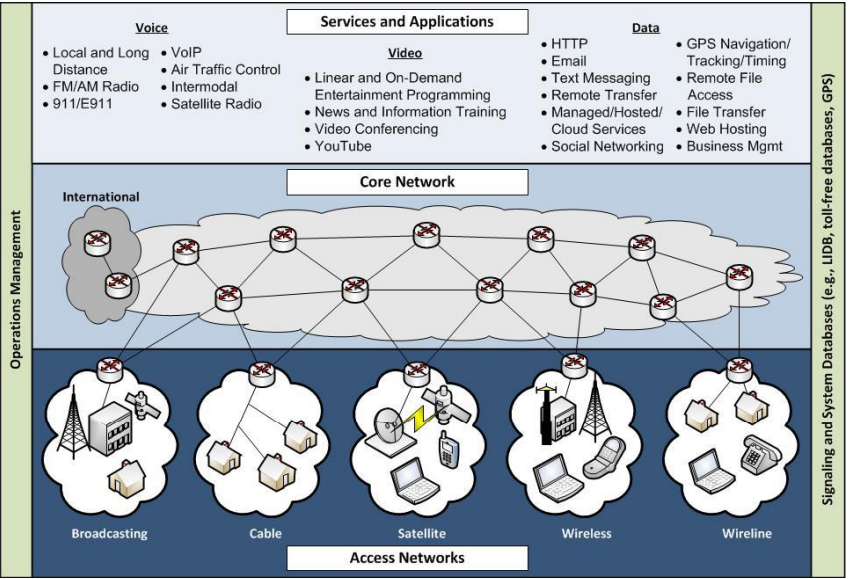 The nature of communication networks involve both physical infrastructure (buildings, switches, towers, antennas, etc.) and cyber infrastructure (routing and switching software, operational support systems, user applications, etc.), representing a holistic challenge to address the entire physical-cyber infrastructure. 
Communication networks enable people around the world to contact one another, access information instantly, and communicate from remote areas. This involves creating a link between a sender (including voice signals) and one or more recipients using technology (e.g., a telephone system or the Internet) to transmit information from one location to another. Technologies are changing at a rapid pace, increasing the number of products, services,service providers, and communication options. 
The Communications Sector represents a large number of facilities and sites that differ based on function, size, operating principles, and security risks. The sector includes five component areas that have similar functions and operations, thereby representing the access segments. The following section provides a brief overview of the five access segments for each component area.
Broadcast
Broadcasting systems consist of free and subscription based, over-the-air radio and television (TV) stations that offer analog and digital audio and video programming services and data services. Broadcasting has been the principal means of providing emergency alert services to the public for six decades. Broadcasting systems operate in three frequency bands: medium frequency (MF (AM radio)), very high frequency (VHF (FM radio and TV)), and ultra-high frequency (UHF (TV)). The full transition to digital TV and ongoing transition to digital radio provide broadcast stations with enhanced capabilities, including the ability to multicast multiple programs on a single channel. Radio and TV stations also stream broadcast and additional programming content over the Internet.
The cable industry is composed of more than 7,700 cable systems that offer analog and digital video programming services, digital telephone service, and high-speed broadband services. The cable systems use a mixture of fiber and coaxial cable to provide bidirectional signal paths to the customer. This hybrid fiber/coaxial (HFC) network architecture effectively segments the cable system into a number of parallel distribution networks. The HFC architecture is beneficial to business and residential customers because it improves signal performance and increases available bandwidth and overall network reliability. Although network designs vary, the HFC architecture in any particular community is typically based on a three-level topology, which includes a headend, one or more distribution hub(s), and multiple fiber nodes.
This is a platform launched into orbit to relay voice, video, or data signals as part of a telecommunications network. Earth station antennas transmit signals to the satellite, which are amplified and sent back to Earth for reception by other earth station antennas. Satellites use a combination of terrestrial and space components to perform many types of functions, such as the bidirectional transmission of voice, video, and data services; data collection; event detection; timing; and navigation.
Wireless refers to telecommunication in which electromagnetic waves (rather than some form of wire) carry the signal over part of or the entire communication path. Wireless technologies consist of cellular phones, wireless hot spots (WiFi), personal communication services, high-frequency radio, unlicensed wireless, and other commercial and private radio services to provide communication services.
Wireline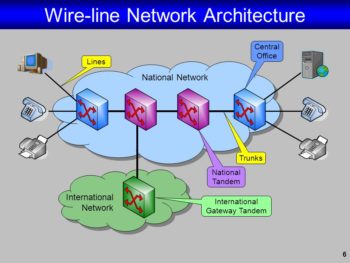 Consists of circuit- and packet-switched networks via copper, fiber, and coaxial transport media. It includes private enterprise data and telephony networks, the core backbone of the Internet, and the PSTN.
Top 10 Future Trends impacting the Industry
Well it is actually happening, especially in some network planning functions and radio resource management. Everyone is now trying to use it all the way down to the physical layer. Activities involving Machine Learning will continue to rise in the communications sector
THz Frequencies: Where Communication Meets Positioning and Imaging
A defining feature of 5G has been the breaking of the 6 GHz ceiling. But what can we say, this is already boring. Beyond, vast horizons of idle bandwidth had long awaited designers brave enough to face the challenges that these millimeter-wave frequencies present: small antenna apertures, lack of diffraction around obstacles, atmospheric attenuation of rain and snow, device power consumption, cost, etc. Now researchers are starting to explore the even higher frequency frontier that lies between 100 GHz and 1 THz, where the aforementioned challenges become even more taxing, but the promises also multiply: besides even broader swaths of free bandwidth, their tiny wavelength makes these frequencies suitable for high-resolution positioning and even crude imaging. If this blend of possibilities fructifies, applications await for short-range systems, vehicular networks, or drone-to-drone connectivity, among others.
IoT - The Post-Cellphone Era is Near
The cellphone, and more recently its smartphone incarnation, has long been the undisputed darling of wireless communications. Other devices do connect to wireless networks, but their volume has barely registered to date. The appearance of a myriad of satellite gadgets such as smart-watches, eyeglasses, or wearable devices has made little impact on the network so far. And where is that smart city we should all have been living by now? However IoT is making quiet progress into the network with device growth estimated in the 20-30% range, though their data volume remains quite low to date. It is expected that new IoT applications will put more demand on the network for bandwidth. We say this with the caveat that video will continue to drive mobile data volume and will increase its share in all probability in 2019. For that thing that sits in your pocket and you pay more attention to than your family, this year will be the year of the unfolding smart phone, which we think is totally cool and may lead to a more fundamental change than just driving yet more video demand, that could be called "post smart phone". However, the transformation of IoT is expected to be more profound, with a progressive shift from human-borne transceivers to domestic appliances, vehicles, robots, drones, and industrial equipment. Machines taking over from humans: sound familiar?
LTE Continues to Be More Important Than

5G
Ericsson mobility report are predicting that LTE subscribers will continue to grow through 2021 and that 5G will be frankly a bit of a blip until then. LTE has a lot of juice left in it and the new peripheral technologies such as IoT and ML will give LTE a boost thru 2021. So don't throw that book on LTE away quite just yet.
Security / Privacy / EU GDPR 
Restrictions
In 2018, Google was fined $5 billion by the EU for Android antitrust violations, which broke the previous record of $2.7 billion fine from the EU in 2017 over manipulated search results. Facebook CEO Mark Zuckerberg testified at Capitol Hill regarding the usage of personal data by Facebook. Also in 2018, the EU started a new law for protecting data privacy. It's called the GDPR, General Data Protection Regulation, which will have significant impacts on how the apps and services use and protect our personal data. We expect that coming into 2019 security and privacy will continue to become more and more important as more people become more aware, and perhaps paranoid, about how their data is being used. Security then becomes a principle in the development of IoT technologies, smart city, and vehicle communications and so on. Already security has become a more pressing topic in the standards bodies and there is opportunity for new technology in this area. So we will call 2019 the year of security focused networking.
6G - Concept to Reality 
We probably weren't correct that 2018 was the year of 6G as 5G continued to prove to be a good place for the academics to play. But we note that there is at least one 6G academic workshop early this year and will reset our prediction. We expect that THz and AI will play a strong role in 6G study in 2019. We again predict that there will be a continuing trend towards the standard specifying less and less as we leave gaps in the specification for machine learning to set chunks of the modem operation on the fly leading to a new era for how standards are developed.
Sources / References:




http://www.concerttech.com/communications-infrastructure-future-business
https://www.dhs.gov/cisa/communications-sector

Comments (8 Comments)