Basics of Energy – Definition
Energy, is the capacity for doing work. It may exist in potential, kinetic, thermal, electrical, chemical, nuclear, or other forms. 
All forms of energy are associated with motion. For example, any given body has kinetic energy if it is in motion. A tensioned device such as a bow or spring, though at rest, has the potential for creating motion; it contains potential energy because of its configuration. Similarly, nuclear energy is potential energy because it results from the configuration of subatomic particles in the nucleus of an atom.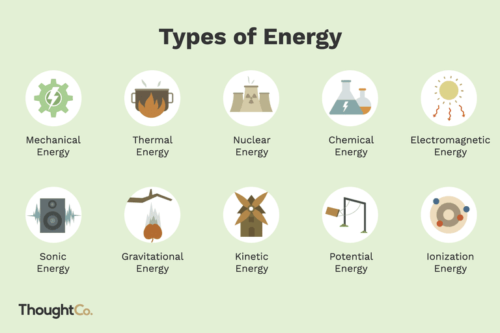 Energy can be neither created nor destroyed but only changed from one form to another. This principle is known as the conservation of energy or the first law of thermodynamics. For example, when a box slides down a hill, the potential energy that the box has from being located high up on the slope is converted to kinetic energy, energy of motion. As the box slows to a stop through friction, the kinetic energy from the box's motion is converted to thermal energy that heats the box and the slope.
Energy can be converted from one form to another in various other ways. Usable mechanical or electrical energy is, for instance, produced by many kinds of devices, including fuel-burning heat engines, generators, batteries,fuel cells, and magnetohydrodynamicsystems.
How is Energy Measured?
In the International System of Units(SI), energy is measured in joules. One jouleis equal to the work done by a one-newtonforce acting over a one-metre distance. Energy sources are divided into two groups: Renewable and nonrenewable energy sources can be used as primary energy sources to produce useful energy such as heat or used to produce secondary energy sources such as electricity.
Renewable (an energy source that can be easily replenished)

Non-renewable (an energy source that cannot be replenished)
Renewable energy
There are five main renewable energy sources:
Solar energy from the sun

Geothermal energy

 from heat inside the earth

Wind energy

Biomass from plants

Hydropower from flowing water
Nonrenewable energy
Most of the energy consumed in the United States is from nonrenewable energy sources:
Fossil Fuels – Crude oil, natural gas, and coal are called fossil fuels because they were formed over millions of years by the action of heat from the earth's core and pressure from rock and soil on the remains (or fossils) of dead plants and creatures such as microscopic diatoms. Most of the petroleum products consumed in the United States are made from crude oil, but petroleum liquids can also be made from natural gas and coal.

Petroleum products

Hydrocarbon gas liquids

Natural gas

Coal
Nuclear energy – 

Nuclear energy is produced from uranium, a nonrenewable energy source whose atoms are split (through a process called nuclear fission) to create heat and, eventually, electricity.
ENERGY MANAGEMENT - Why is it Important to Us
Energy management is the key to saving energy in your organization. Much of the importance of energy saving stems from the global need to save energy - this global need affects energy prices, emissions targets, and legislation, all of which lead to several compelling reasons why you should save energy at your organization specifically.
The global need to save energy
If it wasn't for the global need to save energy, the term "energy management" might never have even been coined. Globally we need to save energy in order to:
Reduce the damage that we're doing to our planet, Earth. As a human race we would probably find things rather difficult without the Earth, so it makes good sense to try to make it last.

Reduce our dependence on the fossil fuels that are becoming increasingly limited in supply.
What is Energy Management?
Energy management is the process of monitoring, controlling, and conserving energy in a building or an industry. Energy management is the key to saving energy entities or individuals. Energy management is an important energy resource that can help meet future energy needs while the nation concurrently develops new and low-carbon energy sources
Seven Principles For Effective Energy Management
Rising energy costs and growing demand continues to add pressure to the already depleting energy resources on earth. So energy management is becoming ever important, many new energy-saving technologies are now available, such as automated management systems, but they do not, in themselves, guarantee a successful energy program. We should keep the following principles in mind as they consider "new" approaches to energy management.
Without knowing how, when and where energy is used, there is no way to gauge the relative importance of energy management projects. Identifying and tracking energy use patterns is the first step in any energy program.
More energy savings may be obtained by simply controlling a system's use (e.g., lighting) than by installing more efficient components (e.g., T-8 lamps and electronic ballasts).
Most successful energy management programs are found in the best managed and maintained facilities, not in those with the greatest quantity of technological equipment.
Good maintenance practices and good energy management go hand in hand. Some of the highest rates of return on energy conservation are generated simply by performing maintenance.
Preventive maintenance is still critical, and reactive maintenance (waiting for a crisis to occur) is still foolish, despite funding limitations. It is easy to ignore preventive maintenance when systems are new, calibrations are precise, seals are tight, and heat-exchanger surfaces are clean. As systems age, these and other items need care. No amount of technology will obviate the need for regular care or compensate for its absence.
Maintenance and energy management serve different purposes. One cannot be substituted for the other. For example, cleaning light-fixture lenses and re lamping them is good maintenance; installing more efficient lamps and ballasts is good energy management. These distinctions must be remembered when budgets are being prepared.
Automated energy management systems cannot compensate for poor HVAC system design. If heating and cooling loads are incorrectly estimated or equipment is inappropriate, automation cannot wring more performance out of system components than they were designed to provide.
FUTURE TRENDS - 2019 to 2050:
According to McKinsey - Below are the Top 5 perspectives and insights for the Energy Sector. To read the full report >> Click Here
1. Global primary energy demands plateaus after 2035 despite population expansion and economic growth
After more than a century of rapid growth, global energy demand shows growth slowing and plateauing around 2030, primarily driven by penetration of renewable energy sources into the energy mix.
In Addition, a decline in the energy intensity of economies across geographies offsets the increase in energy demand needed to support a growing population with increasing income levels, especially in emerging markets.
Global energy perspective reference case projects slower energy demand growth, particularly because of a larger role anticipated for renewable resources in the energy system by mid-century.
2.  Electricity Consumption doubles until 2050, while renewable's are projected to make up over 50% of generation by 2025
Electrification across key end uses leads to a doubling of electricity demand by 2050. This is particularly driven by increased demand in buildings and a shift toward electricity as an energy source in Road Transport.
Wind and Solar are rapidly gaining share in the capacity mix and already accounted for more than half of the net capacity additions in the past few years.
Renewable energy generation is projected to account for more than 50% of total power generation post - 2035. This marks a clear trend break from the historical fossil-fuel based energy generation.
As the role of intermittent resources in total energy generation increases, power systems will see a strong growth in balancing needs, particularly when solar and wind generation combined reach a share beyond 30%.
3.  Gas continues to grow its share of global energy demand - the only fossil fuel to do so - and then plateaus after 2035
Gas is the only fossil fuel which grows its share of total energy demand until 2035, albeit at a declining growth rate, and then plateaus, even when considering significant sensitivities, gas demand remains robust within +/- 3% range.
In Long Term (post - 2035), gas demand declines overall. It is particularly under pressure in the power sector, where the share of total demand drops from 41% to 33% between 2019 - 2050
This long-term effect is robust under various gas price scenarios; given the increasing competitiveness of renewables vs. gas, even halving gas prices will only enable marginal incremental demand
4.  Oil demand growth slows down substantially, with a projected peak in the early 2030's
Despite stable historical growth of more than 1% per annum, oil demand growth is projected to slow down in the coming decade. This leads to an unexpected peak in demand in the early 2030's at a volume of 108 million barrels per day.
In an accelerated transition scenario, with increased electrification of transport and plastic recycling, this peak is pulled forward further to before 2025. In this scenario, demand will be half of what is today's levels by 2050
Even in the accelerated transition scenario, there is a need for new oil barrels. Nevertheless, some regions would no longer be profitable
5.  Carbon emissions are projected to decline due to decreasing coal demand, yet a 2-degree pathway will still be far away.
Global energy-related emissions peak in 2024 and fall by -20% from 2016 to 2050. This pattern is primarily driven by a reduction in coal use, especially in China and the power sector
A 1.5 Degree or even 2 Degree scenario remains far away. To get to a 1.5 degree scenario, far reaching decarbonization or demand reduction is needed across all sectors
Hydrogen can play a role in such a world if retail prices drop to USD 3.5/kg or below. It can play an important role in decarbonizing some of the hardest-to-abate sectors
References & Citations:


https://www.britannica.com/science/energy




https://www.mckinsey.com/industries/oil-and-gas/our-insights/global-energy-perspective-2019
Comments (3 Comments)