"Ayurveda"  one of the world's oldest holistic healing systems prevalent in the world was  developed more than 5,000 years ago in India, Asia. Based on the principle belief that one's  health and wellness depend on maintaining a delicate balance between the mind, body, and spirit. it is the most simple and convenient system of medication to follow with no side effects. When one's  mind, body, and spirit are in harmony with nature, you possess good health & any imbalance makes you vulnerable and prone to sickness. Among the things that can upset this balance are categorized as  genetic or birth defects, injuries, climate and seasonal change, age, and emotions.
Ayurveda Practice & its Belief System
Ayurveda believe that every creation is made of five "tattva's" or core elements found in the universe and those are space, air, fire, water, and earth. These elements combine in the human body to form three life forces or energies which are called doshas. Dosha's control bodily functions. The three types of Dosha's  are Vata dosha (Combination of space and air); Pitta dosha (Combination of fire and water); and Kapha dosha (Combination of water and earth). It is these combination of Dosha's which manifests and controls mental processes, body functions and even governs on characteristics, habits and thought process of an individual. 
Everyone inherits a unique mix of the three doshas. But one would be particularly stronger than the others. Each Dosha's controls a different body function. It has been scientifically confirmed that your chances of getting sick -- and any health issues you develop -- are linked to the balance of your doshas.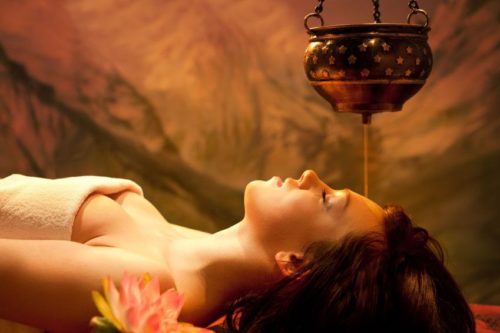 The doshas are dynamic energies that constantly change in response to our actions, thoughts, emotions, the foods we eat, the seasons, and any other sensory inputs that feed our mind and body. When we live into the fulfillment of our individual natures, we naturally make lifestyle and dietary decisions that foster balance within our doshas. When we live against our intrinsic natures, we support unhealthy patterns that lead to physical and mental imbalances.
Ayurveda offers specifically tailored recommendations for every individual, ranging from general lifestyle changes to the treatment of dis-ease (literally, an imbalance within our natural state of "ease"). For this reason, Ayurveda can truly be called a system of individualized health care, something remarkably different from the Western model's "one-pill for all" approach. Since the doshas are used to detect imbalances before the manifestation of dis-ease, Ayurveda is also a complete system of preventative medicine
ABOUT DOSHA'S
Vata Dosha -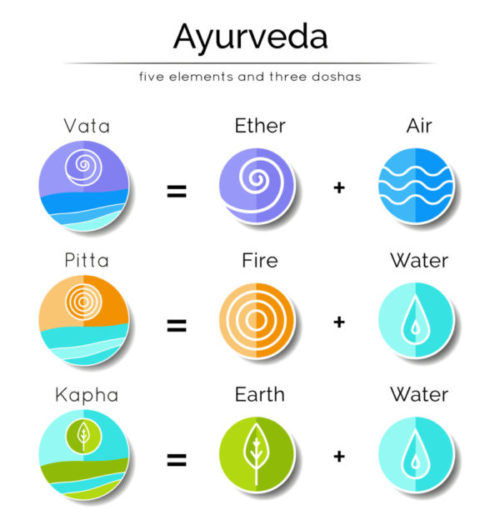 Those who practice Ayurveda believe this as the most powerful of all three doshas. It controls very basic body functions even how cells divide. It also controls your mind, breathing, blood flow, heart function, and ability to get rid of waste through your intestines. Things that can disrupt the balance include eating again too soon after a meal, fear, grief, and staying up too late.
If vata dosha is your main life force, you're more likely to develop conditions like anxiety, asthma, heart disease, skin problems, and rheumatoid arthritis.
Vata evolved from the elements of Space and Air and transcribe as "wind  which moves things." It forms the energy for movement and the force governing all biological activity.  As wind in balance provides movement and expression to the natural world, a balanced Vata individual is active, creative, and gifted with a natural ability to express and communicate. Any imbalance on vata dosha as a constituent results into overshadowing of  negative qualities overs positive attributes. Common signs of Vata imbalance include anxiety and bodily disorders related to dryness, such as dry skin and constipation.
The qualities of Vata are dry, rough, light, cold, subtle, and mobile. A Vata individual will display physical and mental characteristics that reflect these qualities in both a balanced or in an imbalanced state.
In the body the main locations of Vata  are the colon, thighs, bones, joints, ears, skin, brain, and nerve tissues. Physiologically, Vata regulate anything related to movement, such as breathing, talking, nerve impulses, movements in the muscles and tissues, circulation, assimilation of food, elimination, urination, and menstruation. Psychologically, Vata control communication, creativity, flexibility, and quickness of thought.
Pitta Dosha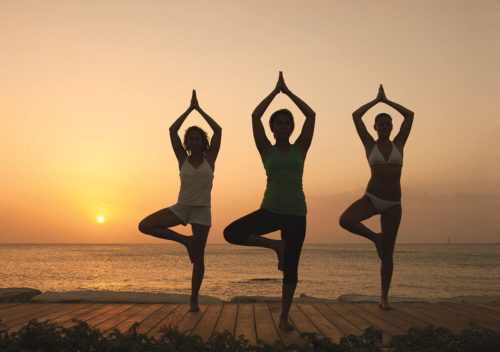 This energy manage your digestion, metabolism (how well you break down foods), and certain hormones that are linked to your appetite. Pitta derives from the elements of Fire and Water and translates to " that which cooks."
 It is the energy of digestion and metabolism in the body that functions through carrier substances such as organic acids, hormones, enzymes, and bile. While Pitta is more closely related to the element of Fire, it is the liquid nature of these substances that accounts for the element of Water in Pitta's make-up.
If it's your main life force, you're more likely to develop conditions like Crohn's disease, heart disease, high blood pressure, and infections.
The qualities of Pitta are oily, sharp, hot, light, moving, liquid, and acidic. A " Pitta" constituent individual will display physical and mental attributes that reflect these qualities in both a balanced and imbalanced state.
The body parts governed by Pitta are the small intestine, stomach, liver, spleen, pancreas, blood, eyes, and sweat. Physiologically, Pitta provides the body with heat and energy through the breakdown of complex food molecules. It guides all processes related to conversion and transformation throughout the mind and body. Psychologically, Pitta governs joy, courage, willpower, anger, jealousy, and mental perception. It also provides the radiant light of the intellect.
A person having tendency to "overheat," excess Pitta is usually the culprit. Just as a campfire may turn into a forest fire without proper care, the internal fire of the mind and body must be kept in check.
The balanced Pitta individual is blessed with a joyful inclination, a sharp intellect, courage and drive. As the fire of the mind and body becomes unruly, however, the amusing Pitta quickly becomes the annoying Pitta. Anger, rage, and ego replace positive attributes, leaving the individual bitter with life and overbearing towards others. Commonly there is saying that imbalanced Pitta individuals don't go to hell; they simply create it wherever they go! Pitta imbalances commonly manifest in the body as infection, inflammation, rashes, ulcers, heartburn, and fever.
Kapha Dosha
Kapha derives from the elements of Earth and Water and translates as "that which sticks." It is the energy of building and lubrication that provides the body with physical form, structure, and the smooth functioning of all its parts. Kapha can be thought of as the essential cement, glue, and lubrication of the body in one.
This Dosha dictates muscle growth, body strength and stability, weight, and your immune system. Disruption is possible by sleeping during the day, eating too many sweet foods, and eating or drinking things that contain too much salt or water.The qualities of Kapha are moist, cold, heavy, dull, soft, sticky, and static. A Kapha individual will display physical and mental characteristics that reflect these qualities in both a balanced and imbalanced state.
As a main force of the body's life energy, you may develop asthma and other breathing disorders, cancer, diabetes, nausea after eating and obesity.
The body parts governed by Kapha in the body are the chest, throat, lungs, head, lymph, fatty tissue, connective tissue, ligaments, and tendons. Physiologically, Kapha moistens food, gives bulk to our tissues, lubricates joints, stores energy, and relates to cool bodily fluids such as water, mucous, and lymph. Psychologically, Kapha governs love, patience, forgiveness, greed, attachment, and mental inertia. With its earthly makeup, Kapha grounds Vata and Pitta and helps offset imbalances related to these doshas.
Just as a nourishing rains may turn into a rampant flood, the fluids of the body may flood the bodily tissues, contributing to a heavy dampness that weighs down the body and clouds the mind. This dense, cold, and swampy environment becomes a breeding ground for a number of bodily disorders such as obesity, sinus congestion, and anything related to mucous. Mentally, the loving and calm disposition of the Kapha individual may transform into lethargy, attachment, and depression.
Treatment Methodology: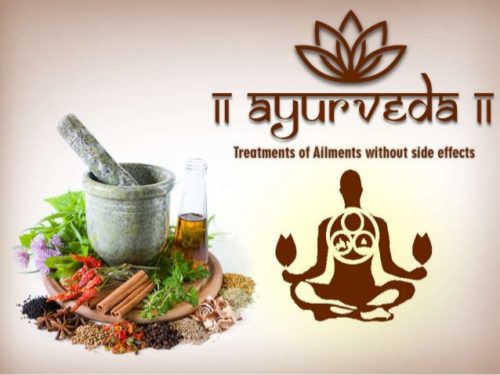 The system of medicine forms the part of one of the ancient scripture of Vedas which were written by saints on way of life and dharma (Dharma signifies behaviors that are considered to be in accord with Living, the order that makes life and universe possible, and includes duties, rights, laws, conduct, virtues and "right way of living"). It preaches in healing by cultivating discipline on eating right, Doing Yoga & pranayama (ancient exercise) for bringing oneness with nature. Nature has all the cures for keeping up the balances, techniques and medicines developed considering this concept is applied for various aliments. Hence as the system of medicine derived from nature and not created artificially and hence has no side effects and works on removing root cause of the ailment. 
An Ayurvedic practitioner will always create a specific treatment plan designed to suit as per the bodily conditions of an individual. He'll take into account your unique physical and emotional makeup, your primary life force or dosha composition, and the balance between all three elements and suggest a remedy of internal natural medicine, specific  exercises (yoga postures), pranayam and other external techniques to remove the negative toxins or imbalances and attune the balance of body to nature.
The goal of treatment is to cleanse the body of all internal impurities  which can stay in your body and lead to illness. The cleansing process—called "panchakarma"— is designed to reduce your symptoms and restore harmony and balance.
To achieve this, an Ayurvedic practitioner might rely on blood purification, massage, medical oils, herbs, and enemas or laxatives.
List of Ayurvedic Treatments
| | |
| --- | --- |
| Ayurvedic Treatment | List of Diseases |
| Abhyangam | Pain, Mental Stress, Gastric Problems, De-toxification, Immunity Problems, Weight |
| Shirodhara | Loss, Paralysis, Skin Problems |
| Kashayadhara | Sleep Problems, Insomnia, Stress, Hair Fall |
| Greeva Basti | Psoriasis, eczema, scalp lesions,   hairfall |
| Janu Basti | Neck Pain, Neck Spondolysis, Neck Arthritis |
| Kati Basti | Knee Pain, Knee Arthritis |
| Spine Basti | Back Pain, sciatica, lumbar spondylosis |
| Kizhi | Spine arthritis, Spondolysis of spine, |
| Mukha Lepam | Pain , Mental stress |
| Netra Tarpanam | Skin Care, Skin conditions |
| Padabhyangam | Vision problems, Eye strain, Headaches |
| Pizhichil | Pain, Mental stress, De-toxification, Gastric problems, Paralysis |
| Shringara | Pain, Mental stress, Immunity problems, Paralysis |
| Soundarya | Skin care treatment |
| Thalapothichil | Skin care treatment |
| Ubtan | Scalp and hair care |
| Udvartanam | Skin care, Weight loss |
In the state of Kerala, India Ayurveda forms an integral part of everyday life of people in every aspects of life. it is for this reason that it is widely appreciated and considered as most effective and widely used for curing diseases than any other medicine science. Further more its uniqueness of having no side effect's and economical makes more openly acceptable with the general population. 
The equable climate, abundant greenery with rich resources of herbs and the effect of monsoon also makes it a favourable and ideal for Ayurvedic treatments.  The cool monsoon season are best suited for Ayurveda's curative and restorative treatment packages. The land is also blessed with in numerous medicinal plants and provides the continuity and consistency of Ayurveda medicines needed for effective treatment procedures. The same herbs with the same potency are available year after year across every season.  
AYURVEDA BENEFITS - Treatment over modern medicine.
Targets the root cause of disease.

No surgical methods implied. 

Is natural and hence gentle on the body without any side effects.

Treatments are cost-effective.

Is effective against pathogens that show resistance to allopathic drugs.

Treatment is holistic; includes oral medicines, therapies, diet and exercise.

Guided treatment many aspects of which you learn to practice life time as a permanent preventive cure.
Scope of Treatments:
Over the ages the Ayurveda as a science has so developed in curing ailments effectively ranging from  Urinary problems to digestibility disorders, from general Infertility to any gynaecological Disorders, Arthritis,pain, Injury  at any location and any forms including severe migraine, Breathing disorders including sinusitis,Asthma, overcoming general disability or mental abilities including Depression, Anxiety, stress and of course diabetes are known to get cured and benefited by billions through the form of medicinal system. Cure of Skin diseases has been found to be most acceptable as first level of medicinal treatment than other forms of Medicine in India.
Ayurveda is strongly propagated in India as an effective alternate medicine therapy especially in Kerala where it is practiced the most. But many location from haridwar, goa, or Tamilnadu, North East and all metropolitan cities of India the system is widely established and practiced.
 India  being a famous tourist destination one can additionally benefit by considering  combining your vacation package with your treatment any required. Cure & rejuvenation with a holiday experience makes the best value for money proposition for people who plan to visit India for either of the requirement. Making the best advantage is highly suggested to every visitor visiting the country. There are individual resorts which service as packages for the combinations of aesthetic accommodation, visiting exotic destinations and get guided treatment for cure. One can also think of  by being in normal vacation and visiting specific clinics for treatment. Options are wide and one can definitely choose and benefit by combining both as per ones requirement and budget. 
FUTURE INNOVATIONS IN THE FIELD OF AYURVEDA
Ayurveda is definitely expanding its horizon rapidly by finding treatment to even diseases found tough to cure within modern medicine, hence its acceptance internationally is increasing progressively. More the acceptance of the system of medicine better would the society becomes by being disease free and healthy.   
About the Author
The writer is travel enthusiast and has more than 10 yrs of experience in Tourism Industry. Being based out of Kerala, he  is passionate to introduce this beautiful state to the rest of the world.
Comments (8 Comments)