Internet of Things (IoT) is a Technology Concept of interrelated computing devices, mechanical and digital machines, objects using a Unique identifiers System (UIDs) and with an ability to transfer data over the internet network without requiring human-to-human or human-to-computer interaction.
IoT is an Innovative convergence of futuristic technologies mainly including real-time analytics, machine learning, commodity sensors, and embedded systems.Traditional fields of embedded systems, wireless sensor networks, control systems, automation. In the consumer market, IoT technology is most synonymous with products pertaining to the concept of the "smart home", covering devices and appliances (such as lighting fixtures, thermostats, home security systems and cameras, and other home appliances) that support one or more common ecosystems, and can be controlled via devices associated with that ecosystem, such as smartphones and smart speakers.
The term is closely identified with RFID as the method of communication, it also may include other sensor technologies, wireless technologies or QR codes.
The IoT is significant because an object that can represent itself digitally becomes something greater than the object by itself. No longer does the object relate just to its user, but it is now connected to surrounding objects and database data. When many objects act in unison, they are known as having "ambient intelligence."
A complete IoT system integrates four distinct components: sensors/devices, connectivity, data processing, and a user interface.
An IoT system consists of sensors/devices which "talk" to the cloud through a Integrated Communication Technology. Once the data gets to the cloud, software applications process it and then decide to perform an action, such as sending notification or automatically adjusting the sensors/devices without the need for the user.
If the user input is needed or if the user simply wants to check in on the system, a user interface allows them to do so. Any adjustments or actions that the user makes are then sent in the opposite direction through the system: from the user interface, to the cloud, and back to the sensors/devices to make some kind of change.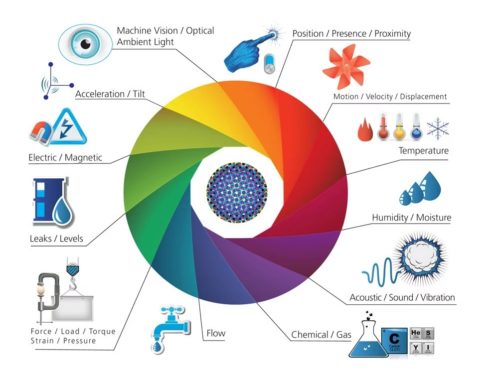 Sensors or devices collect data from their environment. This could be as simple as a temperature reading or as complex as a full video feed. Devices are combined with multiple sensors and devices are bundled together to sense the Local Environment. Sensors can be part of a device that does more than just sense things. For example, a smart phone is a device that has multiple sensors (camera, accelerometer, GPS, etc), but a smart phone is not just a sensor.
These devices combined with sensors are the first step of data is being collected from the environment by something.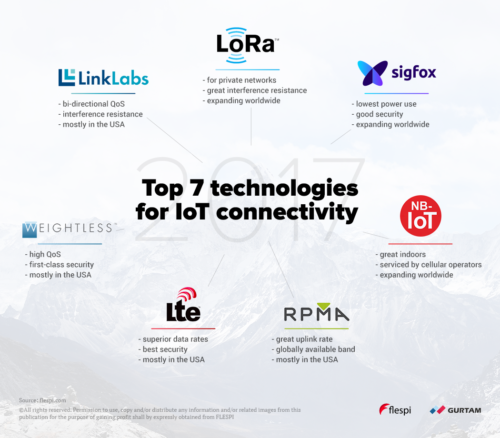 The collected by Independent devices and its sensors are collected and stored on the Storage Cloud, that data is sent to be stored on cloud storage infrastructure (what's the cloud), through a variety of communication technologies.  This including: cellular, satellite, WiFi, Bluetooth, low-power wide-area networks (LPWAN), or connecting directly to the internet via ethernet.
Each option has tradeoffs between power consumption, range and bandwidth. Choosing the right connectivity option depends on the specific IoT application, but the objective of all communication technologies remain the same which is to enable the data transfer from a Device / Sensor to the Storage Cloud. 
Data Processing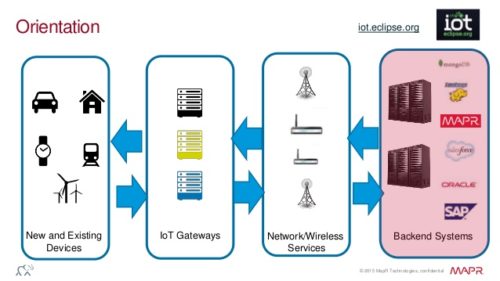 Once the data is stored on the cloud, software applications performs logical data processing to achieve set goal or a purpose. This could be as simple as checking that the temperature reading is within an acceptable range. Or it as complex as, using computer vision on video to identify objects (such as intruders in your house).
But what happens when the temperature is too high or if there is an intruder in your house? That's where the user comes in.
User Interface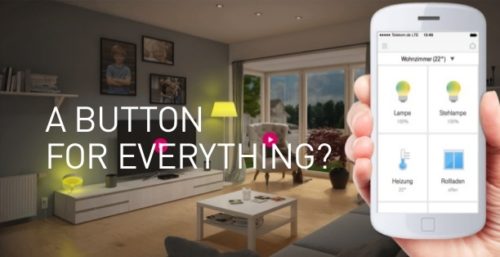 The information processed is made useful to the end-user. This could be through alert or a notification using standard communication technologies (email, text, notification, etc). For example, a text alert when the temperature is too high in the company's cold storage. Also, a user might have an interface that allows them to proactively check in on the system. For example, a user might want to check the video feeds in their house via a phone app or a web browser.  Depending on the IoT application, the user may also be able to perform an action and affect the system. For example, the user might remotely adjust the temperature in the cold storage via an app on their phone.
Some of the actions can also be performed automatically. Rather than waiting for to adjust the temperature, the system could do it automatically via predefined rules. And rather than just call you to alert you of an intruder, the IoT system could also automatically notify relevant authorities.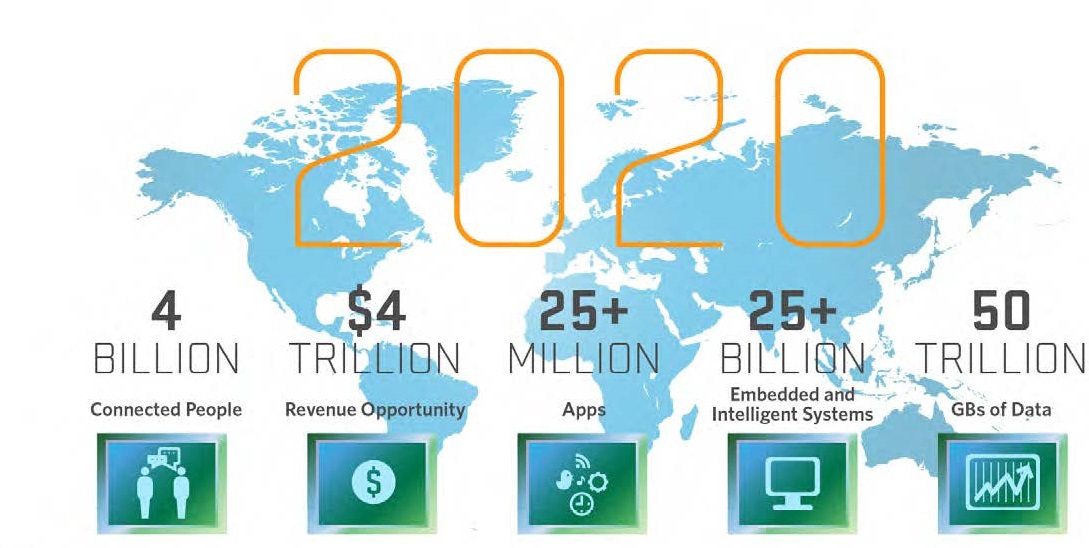 Top 10 Future Trends - IoT Technology 
The IoT will continue to deliver new opportunities for digital business innovation for the next decade, many of which will be enabled by new or improved technologies. According to Gartner - Leading Consulting Company in the area of Technology, below are the 10 most strategic IoT technologies and trends that will enable new revenue streams and business models, as well as new experiences and relationships: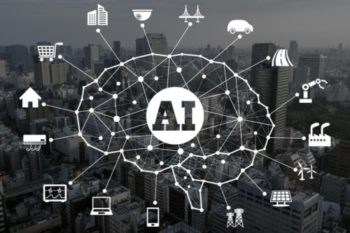 According to the Research, forecast is that 14.2 billion connected things will be in use in 2019, and that the total will reach 25 billion by 2021, producing immense volume of data. "Data is the fuel that powers the IoT and the organization's ability to derive meaning from it will define their long term success, AI will be applied to a wide range of IoT information, including video, still images, speech, network traffic activity and sensor data.
The technology landscape for AI is complex and will remain so through 2023, with many IT vendors investing heavily in AI, variants of AI coexisting, and new AI-based tolls and services emerging. Despite this complexity, it will be possible to achieve good results with AI in a wide range of IoT situations. Key to a organization will be the tools and skills to exploit AI in their IoT strategy.
Social, Legal and Ethical IoT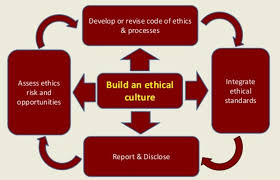 As the IoT matures and becomes more widely deployed, a wide range of social, legal and ethical issues will grow in importance. These include ownership of data and the deductions made from it; algorithmic bias; privacy; and compliance with regulations such as the General Data Protection Regulation.
Successful deployment of an IoT solution demands that it's not just technically effective but also socially acceptable. Organizations therefore, educate themselves and their staff in this area, and consider forming groups, such as ethics councils, to review corporate strategy. Organizations should also consider having key algorithms and AI systems reviewed by external consultancies to identify potential bias."
Infonomics and Data Broking
The theory of infonomics takes monetization of data further by seeing it as a strategic business asset to be recorded in the company accounts. By 2023, the buying and selling of IoT data will become an essential part of many IoT systems. Organization must educate their organizations on the risks and opportunities related to data broking in order to set the IT policies required in this area and to advise other parts of the organization.
The Shift from Intelligent Edge to

Intelligent Mesh
The shift from centralized and cloud to edge architectures is well under way in the IoT space. However, this is not the end point because the neat set of layers associated with edge architecture will evolve to a more unstructured architecture comprising of a wide range of "things" and services connected in a dynamic mesh. These mesh architectures will enable more flexible, intelligent and responsive IoT systems — although often at the cost of additional complexities. Organisations must prepare for mesh architectures' impact on IT infrastructure, skills and sourcing.
IoT Governance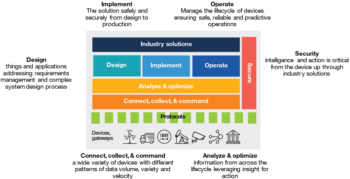 As the IoT continues to expand, the need for a governance framework that ensures appropriate behavior in the creation, storage, use and deletion of information related to IoT projects will become increasingly important. Governance ranges from simple technical tasks such as device audits and firmware updates to more complex issues such as the control of devices and the usage of the information they generate. Organisations must take on the role of educating their organizations on governance issues and in some cases invest in staff and technologies to tackle governance.
Sensor Innovation
The sensor market will evolve continuously through 2023. New sensors will enable a wider range of situations and events to be detected, current sensors will fall in price to become more affordable or will be packaged in new ways to support new applications, and new algorithms will emerge to deduce more information from current sensor technologies. Organisations should ensure their teams are monitoring sensor innovations to identify those that might assist new opportunities and business innovation.
Trusted Hardware and Operating System
Security is the most significant area of technical concern for organizations deploying IoT systems. This is because organizations often don't have control over the source and nature of the software and hardware being utilised in IoT initiatives. However, by 2023, we expect to see the deployment of hardware and software combinations that together create more trustworthy and secure IoT systems. Organisations need to collaborate effectively with the Information Security teams to ensure the right staff are involved in reviewing any decisions that involve purchasing IoT devices and embedded operating systems.
Novel IoT User Experiences
The IoT user experience (UX) covers a wide range of technologies and design techniques. It will be driven by four factors: new sensors, new algorithms, new experience architectures and context, and socially aware experiences. With an increasing number of interactions occurring with things that don't have screens and keyboards, organizations' UX designers will be required to use new technologies and adopt new perspectives if they want to create a superior UX that reduces friction, locks in users, and encourages usage and retention.
Silicon Chip Innovation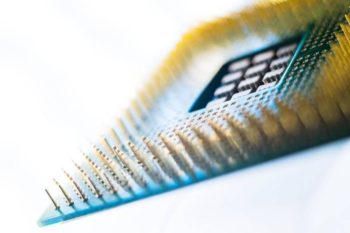 Currently, most IoT endpoint devices use conventional processor chips, with low-power ARM architectures being particularly popular. However, traditional instruction sets and memory architectures aren't well-suited to all the tasks that endpoints need to perform. "For example, the performance of
deep neural networks (DNNs)
is often limited by memory bandwidth, rather than processing power.
By 2023, it's expected that new special-purpose chips will reduce the power consumption required to run a DNN, enabling new edge architectures and embedded DNN functions in low-power IoT endpoints. This will support new capabilities such as data analytics integrated with sensors, and speech recognition included in low cost battery-powered devices. Organisations are advised to take note of this trend as silicon chips enabling functions such as embedded AI will in turn enable organizations to create highly innovative products and services.
New Wireless Networking Technologies for IoT
IoT networking involves balancing a set of competing requirements, such as endpoint cost, power consumption, bandwidth, latency, connection density, operating cost, quality of service, and range. No single networking technology optimizes all of these and new IoT networking technologies will provide organisations with additional choice and flexibility. In particular they should explore 5G, the forthcoming generation of low earth orbit satellites, and backscatter networks.
References:
Gartner Report on IoT - "Top Strategic IoT Trends and Technologies Through 2023."
Comments (9 Comments)