What is Autism?

Autism aka Autism spectrum disorder (ASD) refers to a broad range of conditions which is characterized by Challenges in social skills, Repetitive behaviors, and Issues with Speech & nonverbal communication

Prevalence:
Recent estimates from the CDC suggest that ASD affects about 1 in 59 children in the United States. An increasing number of children are diagnosed with ASD than before. This could be due to the changes in the way the condition is being diagnosed and not because more children actually have the disorder.
Causes
Various factors might influence the development of ASD and it is often accompanied by sensory sensitivities and medical conditions like seizures, sleep disorders, gastrointestinal disorders, anxiety, depression, and attention problems.
Types of Autism: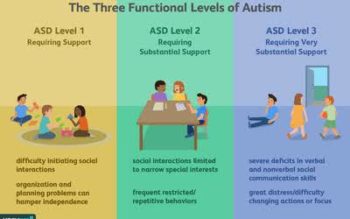 There are several types of autism, most influenced by a combination of environmental and genetic factors. Since it is a spectrum disorder each autistic person has his/her own distinct set of challenges and strengths.
Signs & Symptoms:
While some children are diagnosed with ASD as early as 18 months, some children experience symptoms when they are 2 or 3 years old. Experts opine that early intervention leads to positive outcomes for autistic children. Following are some signs of autism in children:
Lack of eye contact, avoidance or poor eye contact

Lack of back-and-forth play

Loss of interest in social contact

Social withdrawal

Abnormal tone of voice

Abnormal body posturing

Behavioral disturbances

Abnormal facial expressions

A deficit in language comprehension

Speech delay

Flat/monotonous speech

Intense focus on a particular thing/topic

Lack of empathy

Learning difficulty or disability

Lack of pretend play

Not engaging in play with peers

Being preoccupied with specific topics

Repeating words or phrases (Echolalia)

Repetitive movements

Self-abusive behaviors

Social withdrawal

Sleep disturbances

Unusual reactions in social settings

Using odd phrases or words
Present Treatment Options for Autism Spectrum Disorder
Treatment: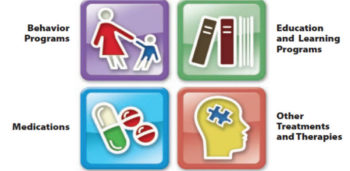 Early intervention helps children who might be at risk for developmental issues even before they turn 3. Based on an autistic child's individual requirements, the type of treatment can differ. Since ASD is a spectrum disorder, one child might have mild symptoms while another might have severe symptoms and might require a variety of treatments. Treatment options for autism include medications and therapies.
Behavior and Communication Therapies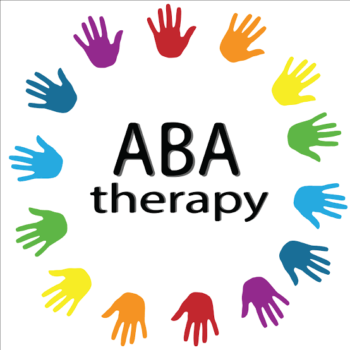 Applied Behavior Analysis (ABA)- This is quite often used in schools and clinics to help an autistic child learn positive behaviors and reduce negative ones. This approach can be used to improve a wide range of skills, and there are different types for different situations such as the following:
Discrete trial training (DTT) uses simple lessons and positive reinforcement

Pivotal response training (PRT) helps develop the motivation to learn and talk

Early intensive behavioral intervention (EIBI) is best prescribed for autistic children below 5 years old

Verbal behavior intervention (VBI) focuses on improving language skills

Developmental, Individual Differences, Relationship-Based Approach (DIR) aka Floortime- This kind of treatment involves you getting the child to play and do the activities he/she enjoys. It is meant to support the child's emotional and intellectual growth by helping him learn skills pertaining to communication and emotions.

Treatment and Education of Autistic and Related Communication-handicapped Children (TEACCH): Visual cues such as picture cards are used to help the child learn everyday skills like getting dressed. They break down the Information so that the child learns it more easily.

The Picture Exchange Communication System (PECS): Also a visual-based treatment, but it uses symbols instead of picture cards. The child learns to ask questions and communicate through special symbols.

Occupational Therapy is a way of helping an autistic child learns life skills such as eating, dressing himself, bathing, and understanding how to relate to other people. Such skills help him develop as an independent individual.

Sensory Integration Therapy: For children who get easily upset by things like bright lights, certain sounds, or the feeling of being touched, this therapy can help him/her learn to deal with such sensory information.
Medications
Although there isn't yet any cure for autism spectrum disorder, certain medicines can help with related symptoms like depression, seizures, insomnia, and trouble focusing. Studies have reported that when medications are taken alongside behavioral therapies, it is most effective.
Risperidone (Risperdal) is the only FDA-approved medicine for children with ASD. It can help manage irritability for children aged 5-16.

Selective serotonin reuptake inhibitors (SSRIs),

Anti-

anxiety medications,

Stimulants,
(But these three aren't  FDA-approved for ASD)
Nutrition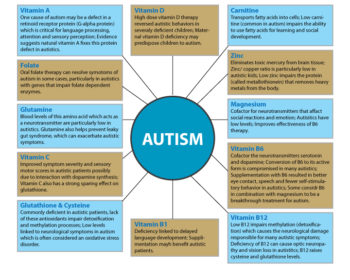 Although most experts do not recommend any specific diets for children with ASD, it is recommended that they get adequate nutrition. Sometimes eliminating gluten from the diets of kids with ASD might help alleviate symptoms. However, there is no evidence to suggest that eliminating gluten or casein from their diet can help treat kids with ASD. Also, limiting foods like dairy can prevent proper bone development in children.
Managing Autism - Upcoming Trends
Below are the Upcoming Trends in managing Autism.
Kami-shoyo-san (KSS), a traditional Japanese herbal medicine:
One study has reported a significant reduction in Autism Spectrum Disorder (ASD)-like behaviors in mice treated with Kami-shoyo-san (KSS). KSS, a traditional Japanese herbal medicine, has been shown to be an effective treatment of vasomotor instability and the adverse psychological symptoms associated with hormone replacement therapy.
The SMARTer approach to personalizing intervention for children with autism spectrum disorder:

"SMART aka Sequential Multiple Assignment Randomized Trial assigns each study participant to a particular therapy program. After a set period, those who aren't making strong progress are assigned to one of three new groups: continued therapy as before; more hours of the same therapy; or a switch to a different therapy. This type of sequential approach shows promise in identifying the optimal level and type of therapy for each child.
The US.FDA-Approved oral drug Balovaptan is a vasopressin receptor antagonist that works by preventing a molecule that's thought to influence social behavior from binding to brain receptors. The results have suggested that the drug was not only safe and effective but also significantly improved social interaction and communication.
Biometrics wristbands
Biometric Wristbands for autistic individuals can be worn just like fitness trackers that could aid not only themselves but also their families, careworkers, and clinicians. It allows the carers and clinicians to assess individual needs, pinpoint causes of distress and preempt challenging behaviors.
Folinic acid improves verbal communication in children with autism and language impairment:
Researchers from the Arkansas Children's Hospital have found that folinic acid can ease autism symptoms in children who have a biological marker that suggests low cellular absorption of the closely related vitamin folate.
Tech Innovations:
Proloquo4Text is an app that encourages users to type their thoughts and then play them out loud. It also allows the user to select pre-programmed phrases that are commonly used, aiding individuals with ASD who experience communication challenges.
Leka is an interactive robotic companion that allows children with ASD to become more autonomous by practicing their cognitive and communication skills.
Smartstones Touch is a handheld, stone-like device that connects to a mobile app. It allows nonverbal children to communicate their feelings in pre-programmed words.
Synchrony is a device that helps autistic individuals broaden their emotional & social skills via Music. This drum-like device helps them engage with others by responding to touch and only playing calming sounds.
Skoog is also a musical device designed for social play. Through its accessibility and inclusivity, Skoog allows users to start creating music without lessons or prior knowledge. It also connects to your iPad.
The classroom SCERTS intervention for elementary students with ASD: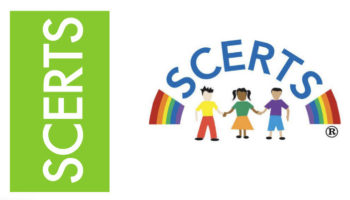 The researchers at Florida State University evaluated a behavioral intervention designed for classrooms, rather than individual students. SCERTS: Social, Communication, Emotional Regulation, and Transactional Support produced significant improvement in multiple measures of the students' social communication which is important for extending the reach of autism interventions beyond one-on-one therapy sessions to groups.
Educating parents about behavioral strategies for ASD:
Researchers at the University of Rochester Medical Center recommend behavioral management training for parents of children with ASD. The training reduced the stress levels of parents in addition to reducing their children's disruptive behavior.
Sources / References


https://www.autismspeaks.org/what-autism




https://www.medicinenet.com/autism_symptoms_and_signs/symptoms.htm




https://www.webmd.com/brain/autism/understanding-autism-treatment#2




https://www.autismspeaks.org/news/autism-speaks-names-top-ten-autism-studies-2018




https://www.echo.co.uk/blog/the-future-of-autism-treatment-4-recent-innovations-with-transformative-potential
Comments (1 Comment)