Preferred engineering methods for controlling exposure to Silica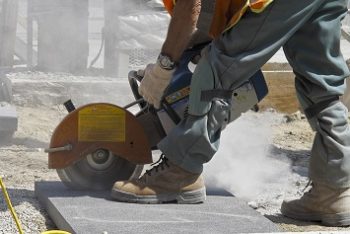 OSHA standard requires employers to take precautionary steps to reduce silica exposure in a way that protects workers. Employers can either take a control method such as using water saws which limits the amount of airborne silica dust that gets into the air and a vacuum dust collection system to remove dust; or measure worker's exposure to Silica. 
Under the standard, worker exposure must be limited to 50 micrograms of respirable crystalline silica per cubic meter of air, averaged over an eight-hour day. When worker exposure is below the permissible exposure limits, OSHA allows the use of respirators which should be worn accurately and consistently. 
In addition to the methods mentioned in the previous paragraph, the rule compels contractors to produce a written exposure control plan and its orderly implementation, train workers on how to limit Silica exposure, provide workers medical exams, and keep a record of any medical treatment related to exposure to Silica.
Penalties apply for failure to comply with Silica rule's standards. Fines can be reduced if after a thorough investigation it has been found out that employers acted in good faith and increased if the violation was willful.
More about building safety
When enhancing building safety, builders must include access doors and panels in their design plans. Different door models are available for a wide variety of applications in commercial, industrial, and residential properties. If you are going to install in a confined space that restricts swinging open an access door, opt to use a removable unit with a panel detachable from the frame. There is plenty to choose from regardless of your personal preferences in access door size, design, or material. 
About the Writer:
The writer of this Article is a Construction Industry Enthusiast. Readers can follow her on 
Witanworld Community - https://community.witanworld.com/ to know more about the Construction Industry.

Sources / References:


OSHA Official Site: https://www.osha.gov/




About OSHA: https://www.osha.gov/aboutosha
Comments (4)