About Drones:
There is lot of buzz concerning a fast growing machines technology, namely "DRONES".  Drones or Unmanned aerial vehicles (UAVs) are aircraft with no on-board crew or passengers. They can be automated 'drones' or remotely piloted vehicles (RPVs). UAV's can fly for long periods of time at a controlled level of speed and height and have a role in many aspects of aviation.
They've become a common sight over the past few years and rapidly growing with multipurpose usage across people from all age groups: kids to play, adults to capture aerial visuals, contributing to the nations security or defence, and companies supplying products at your door steps.
Let's a look at the Drone Technology and how this next generation technology is changing our day to day lives.  When people talk about drones, they're usually referring to flying remotely piloted vehicle (RPV)
History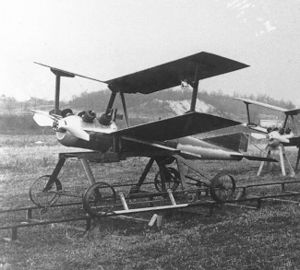 Looking back at the roots - the first drone was the 1918 Kettering Bug, developed for defense in World War-I. These early models were launched by catapult or flown using radio control. The model that was developed, was flown successfully in some tests, but the war ended before it could be further developed.
During the inter-war period the development and testing of unmanned aircraft continued. In 1935 the British produced a number of radio-controlled aircraft to be used as targets for training purposes. It's thought the term 'drone' started to be used at this time, inspired by the name of one of these models, the DH.82B Queen Bee. Radio-controlled drones were also manufactured in the United States and used for target practice and training.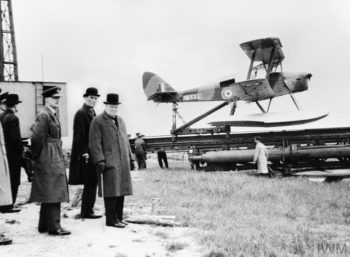 Between the two world wars, the Reginald Denny series were the first drones produced on a large scale, and were used as aerial targets for training antiaircraft gunners. In 1946, B-17 Flying Fortresses were transformed  into drones for collecting radioactivity data during nuclear tests. Decoy drones, such as the ADM-20 Quail, were developed during the Cold War to help manned planes fly safely into defended airspace.
The use of reconnaissance drones in the Vietnam War highlighted the main purpose of drones - Reconnaissance UAVs were first deployed on a large scale in the Vietnam War. Drones also began to be used in a range of new roles, such as acting as decoys in combat, launching missiles against fixed targets and dropping leaflets for psychological operations. 
Following the Vietnam War other countries outside of Britain and the United States began to explore unmanned aerial technology. New models became more sophisticated, with improved endurance and the ability to maintain greater height. In recent years models have been developed that use technology such as solar power to tackle the problem of fuelling longer flights.
Types of Drone Technology
When people talk about drones, they're usually referring to flying vehicles which are remotely piloted - commonly referred to as Remotely Piloted Vehicle (RPV) systems. In addition to aerial drones, industries also make use of ground, naval and space systems. As these systems are starting to communicate and collaborate, a new constellation of unmanned service devices (USDs) is growing.
There are Four main types of Aerial Drones:
Rotary Wing 
Fixed Wing
Fixed Wing Hybrid VTOL
Lighter-than-air
Multi-rotor Drones:
The most common drone configuration is multi-rotor with four, six or eight propellers. The multi-rotor (rotary wing) type has been available for about a decade, thanks to the development of small, powerful and affordable electronic components, also used in smartphones. It's an unstable and energy inefficient configuration, but it can take off and land vertically.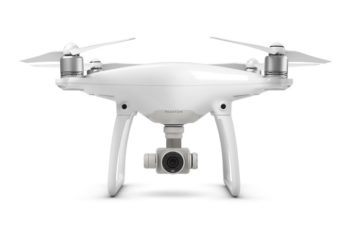 They are used for most common applications like aerial photography, aerial video surveillance etc. Different types of products are available in this segment in the market – multi-rotor drones for professional uses like aerial photography and there are lots of variants for hobby purposes like amateur drone racing, or leisure flying.
Out of all the 4 drone types (based on aerial platform), multi-rotor drones are the easiest to manufacture and they are the cheapest option available as well.
Multi-rotor drones can be further classified based on the number of rotors on the platform. They are Tricopter (3 rotors), Quadcopter (4 rotors), Hexacopter (6 rotors) and Octocopter (8 rotors). Out of these, Quadcopters are the most popular and widely used variant.
Multi-rotor Drones and its Limitations:
Multi-rotor drones are easy to manufacture and relatively cheap, but have many downsides. The prominent ones being it's limited flying time, limited endurance and speed. They are not suitable for large-scale projects like long distance aerial mapping or surveillance. The fundamental problem with the multi-copters is they have to spend a huge portion of their energy (possibly from a battery source) just to fight gravity and stabilize themselves in the air. At present, most of the multi-rotor drones out there are capable of only a 20 to 30 minutes flying time (often with a minimal payload like a camera).
Fixed Wing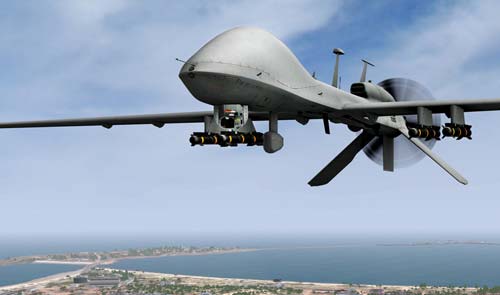 The Airplane (fixed-wing) configuration is much more efficient with greater endurance and range, but it needs space to take off and land. Fixed Wing drones are entirely different in design and build to multi-rotor type drones. They use a 'wing' like the normal airplanes out there. Unlike multi-rotor drones, fixed wing type models never utilize energy to stay afloat on air (fixed wing types can't stand still on the air) fighting gravity. Instead, they move forward on their set course or as set by the guide control (possibly a remote unit operated by a human) as long as their energy source permits.
Most fixed wing drones have an average flying time of a couple of hours. Gas engine powered drones can fly up to 16 hours or higher. Owing to their higher flying time and fuel efficiency, fixed wing drones are ideal for long distance operations (be it mapping or surveillance). But they can not be used for aerial photography where the drone needs to be kept still on the air for a period of time.
Fixed Wing Drones and its Limitations:
The other downsides of fixed-wing drones are higher costs & skill training required in flying. It's not easy to put a fixed wing drone in the air. You either need a 'runway' or a catapult launcher to set a fixed wing drone on its course in the air. A runway or a parachute or a net is again necessary to land them back in ground safely. On the other side, multi-rotor drones are cheap – anyone with a few hundred dollars to spare can buy a decent quadcopter. Flying a quadcopter doesn't require special training. You just take them to an open area and fly it. Guiding and controlling a quadcopter can be learned on the go.
Hybrid VTOL

These are hybrid versions combining the benefits of Fixed wing models (higher flying time) with that of rotor based models (hover). This concept has been tested from around 1960's without much success. However, with the advent of new generation sensors (gyros and accelerometers), this concept has got some new life and direction.
Hybrid VTOL's are a play of automation and manual gliding. A vertical lift is used to lift the drone up into the air from the ground. Gyros and accelerometers work in automated mode (autopilot concept) to keep the drone stabilized in the air. Remote based (or even programmed) manual control is used to guide the drone on the desired course.
There are some versions of this hybrid fixed wing models available in the market. However, the most popular one is drone used in Amazon commercials (for its Prime delivery service).
Lighter-than-air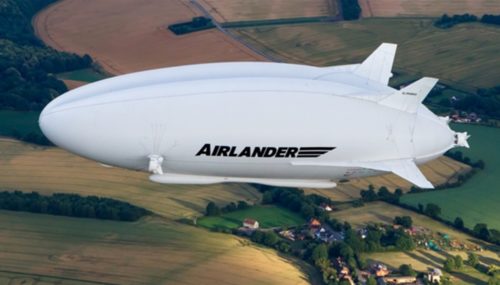 Airships (lighter-than-air) don't need airspeed to generate lift so they can fly almost indefinitely, but they're very weather dependent.  Lighter-than-air UAVs are aircraft such as blimps and balloons. These vehicles benefit from quiet operation and endurance. With their long endurance flight capability these vehicles can be used for surveillance and aerial photography. However, due to their lack of maneuverability these systems are usually tethered. The tether allows the user to maintain control and to keep the UAV from drifting due to winds. In some systems the tether can also act as a communication system to download and upload information from the vehicle.
The Beginner's Guide to Flying Drones
In this drone beginner's guide we cover everything from choosing which drone to buy, to figuring out relevant laws and regulations. You'll also learn about keeping your drone in good condition and traveling with your drone! Continue reading more >> HERE
Drone Industry Trends - Opportunity Ahead
Drones are evolving beyond their military origin to become powerful business tools. They've already made the leap to the consumer market, and now they're being put to work in commercial and civil government applications from firefighting to farming. That's creating a market opportunity that's too large to ignore.
Between now and 2020, we forecast a $100 billion market opportunity for drones—helped by growing demand from the commercial and civil government sectors.
Military
Drones got their start as safer, cheaper and often more capable alternatives to manned military aircraft. Defense will remain the largest market for the foreseeable future as global competition heats up and technology continues to improve. By 2020 - Military drones are expected to contribute to $70 Billion Dollars.
Consumer
The consumer drone market was the first to develop outside the military. Demand has taken off in the last two years and hobbyist drones have become a familiar sight, but there is plenty of room for growth. By 2020 - Consumer Drone Market are expected to upto $17 Billion Dollars.
Commercial /Civil
The fastest growth opportunity comes from businesses and civil governments. They're just beginning to explore the possibilities, but we expect they'll spend $13 billion on drones between now and 2020, putting thousands of them in the sky. Here's where you might see them.
FUTURE TRENDS OF DRONE TECHNOLOGY
Advanced Co-Pilot Systems 
There are certain co-pilot systems out there that are supposed to make your drone a lot easier to fly, putting the drone's software more in charge than the actual pilot. This helps with filming and various other such tasks that require you to focus on other things than flying.
Currently, there are 2 major co-pilot systems in the design stage that are designed to shift even more of the responsibilities to the point where you don't have to worry about flying the drone and you can just focus on your work.
Better Application for the Drone Camera 
This was initially made to work in conjunction with special smart software, however, the horizon has been widening since then. The idea here would be that the drone software can use the built-in camera to scan around and detect objects as well as obstacles that can damage and endanger the drone.
Nothing out of the ordinary there, there are drones that already do this to this very day, but they do so in a rather restricted fashion. There are a lot of drone manufacturers that are trying to give a lot more independence and a lot more autonomy to drones by maximizing their potential in that regard.
NEW TECHNOLOGIES
New technologies are usually designed to make flying easier. For example, the Panoptes Ebumper 4 – a small drone that relies on sonar to detect nearby obstacles and dangers – avoids obstacles without bothering the pilot with this choice. Another new system that was promised is a drone guiding system that relies on infra-red sensors and receivers to allow the drone see its surroundings and avoid everything on its own, as long as the speed is not too high. Another innovation, which is currently on the drawing board, is a way in which pilots can actually handle and operate the camera to its full extent while in flight. With this technology, you'll do a lot more than just pointing the camera in the right direction or fiddling with the gimbal settings.
The idea is to make everything from filters to lighting to lens settings to the most advanced bitrate and recording options available at your fingertips off of your tablet or controller. This one is, however, quite a long way from hitting the shelves.
NEW HARDWARE
One of the massive issues that drone pilots have to deal with is the number of hardware restrictions. The biggest of which are the battery life and power restrictions. Even the most expensive of drones still have around 20-25 minutes of flight time per battery and having more than one fully charged battery on you at a time is actually a normal occurrence. Especially if you plan on using your drone for image and video capture.
Drone manufacturers are currently experimenting with different battery solutions as well as trying to design ways in which to obtain a bigger, more powerful battery. Meanwhile, Sunlight Photonics already announced that they will be releasing a drone that is able to use sunlight in order to fly in the near future.
The modding community is playing a massive role when it comes to battery and power solutions. They managed to come up with different workarounds for drones that are severely underpowered, often boosting their battery life by 70-80%.  The actual brain of future drones was announced to receive substantial upgrades as well, with the new smart drones being well on their way to the market.
These are basically drones that are outfitted with the equivalent performances of desktop computers, providing the pilot with more than enough processing and computing power in order to handle some of the more intricate and advanced systems out there.  The storage solutions that drones come with are also undergoing evolution changes. The first move is to replace the small memory cards with dedicated solid state drives and even expansion bays that allow for increased storage space on demand for extra-long filming sessions and photo shoots.
One last thing to discuss here would be the actual control input that drones come with. The controller itself will be undergoing massive transformations, which have already started to take place. Manufacturers are starting to move away from the big blocky square box controllers with a lot of controls spaced out and spread across it and its edges. The approach that they are all going for is a more user-friendly one; a design that closely mimics gaming console controller design as well as different specific peripherals that can be attached and used depending on the drone and the add-ons that are installed on it.
This makes it a lot easier for pilots to fly, regardless of experience, as well as a lot easier for drone manufacturers to come up with new features and designs for controllers.
Sources:
https://en.wikipedia.org/wiki/Kettering_Bug
http://www.dehavillandmuseum.co.uk/aircraft/
https://www.goldmansachs.com/insights/technology-driving-innovation/drones/
Comments (8 Comments)