A digital marketing strategy describes a series of actions that use online marketing channels to achieve various goals. Channels can include owned, paid, and earned media. A digital marketing action plan allows you to build and launch your online marketing strategy with success.
By Definition, a digital marketing strategy is a set of planned actions performed online to reach specific business goals. In simple terms, this means performing consistent actions at the right time via the most suitable online channels to increase revenue and improve relationships with your audience.
Any strong digital marketing strategy will need to have a plan that fits the brand or business needs and it should primarily involve a combination of approaches.
Strategic Timelines: A robust online marketing strategy details the following goal types:
Short-term
Medium-term
Long-term
Setting multiple types of goals allows you to develop a better plan for your business. You can make short and medium-term goals that help push you towards achieving your long-term goals.
Digital Marketing Campaign vs. Digital Marketing Strategy
Digital campaigns and digital strategies are not the same. Digital campaigns are what you use to achieve the goals of your digital strategy. If you want to use Internet campaigns successfully, you need to create a digital strategy.
Your online strategy will help you build successful and strategic campaigns. A top-notch Online or Digital Marketing Strategy will help you earn valuable leads and revenue for your business.
Critical Steps in creating a digital marketing strategy
Now that you know what a digital marketing strategy is, you can start creating one for your business. Keep reading to learn how to develop your digital marketing action plan in four steps:
1. Creating a consumer or buyer personas
If you want to launch a successful online marketing strategy, you must know who you're targeting. You can't have a successful strategy if you don't know who wants your products or services. The best way to establish who is in your target audience is to create buyer personas.
Buyer personas are personas that represent the people interested in your business. Most companies have a few types of people interested in their products or services. Creating personas helps you understand each type of person that wants to buy your products or services.
Building a strong marketing strategy starts with detailed and robust buyer personas. If you know who your ideal customer is, you can target them in a way that appeals to them.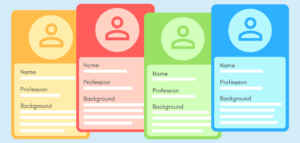 So, how do you create a buyer persona?
Base your buyer personas off current customer data. Research your audience and interview them to learn more about them. You want to base your buyer persona on real data to ensure that you don't make the wrong assumptions about your audience.
It's essential to document demographic information like:
You'll also want to know more personal information, such as:
Goals
Interests
Hobbies
Challenges
From this information, you can start to form personas for your business. These personas will help shape your strategy and determine which channels you should use to reach people.
2. Set your goals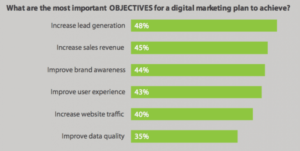 If you're going to create a digital marketing action plan, it's essential that you have goals. You can't create a strategy without knowing what you want to achieve. By setting goals for your campaign, you'll know what you want to accomplish with online marketing.
Focus on - short, medium, and long-term goals.
Your goals should align with your business's goals. Whether it's to earn a certain amount of conversions or obtain a specific number of leads, you'll want to set strategic goals that help you achieve your overall goals.
When you set goals, you must establish:
What you want to achieve
When you want to reach it
How you'll measure that achievement
You'll want to create S.M.A.R.T goals for your digital marketing strategy.
S.M.A.R.T stands for:
Specific: Your goals are precise to what you want to achieve. You don't want to set vague goals like, "get new customers," but rather, "earn X amount of leads."
Measurable: When you set goals, you want to measure whether you've accomplished that goal. When you create a goal like, "earn X amount of customers," you can measure how many customers you obtain to see if you've met that goal.
Attainable: Many companies make the marketing mistake of setting goals that aren't realistic. You wouldn't set a goal to earn 200 leads if that isn't feasible for your business. Instead, aim to set competitive goals, but not impossible ones.
Relevant: Your goals should relate to what you're trying to achieve with your campaign and your business. You wouldn't set a goal to get "X number of email subscribers" if you aren't running an email campaign. Your goals should always align with what you want to accomplish.
Timely: When you set goals, it's crucial that you establish a timeframe for achieving them. You want to give yourself a deadline for reaching your goals. Whether it's weeks, months, or years, ensure your goals have a timeframe.
S.M.A.R.T goals will help you create better targets for your digital marketing action plan. You will see more successful results with your campaign when you set goals that you can measure and knock out.
Your S.M.A.R.T goals will also help you establish key performance indicators (KPIs) for your campaign.
KPIs are figures that help you identify and establish how to measure the success of your campaign. You want to look at metrics, like bounce rate or pageviews, that will showcase whether you're succeeding with your campaign.
If you want to know how to create a digital marketing strategy that works, establish goals.
3. Audit your current online marketing strategies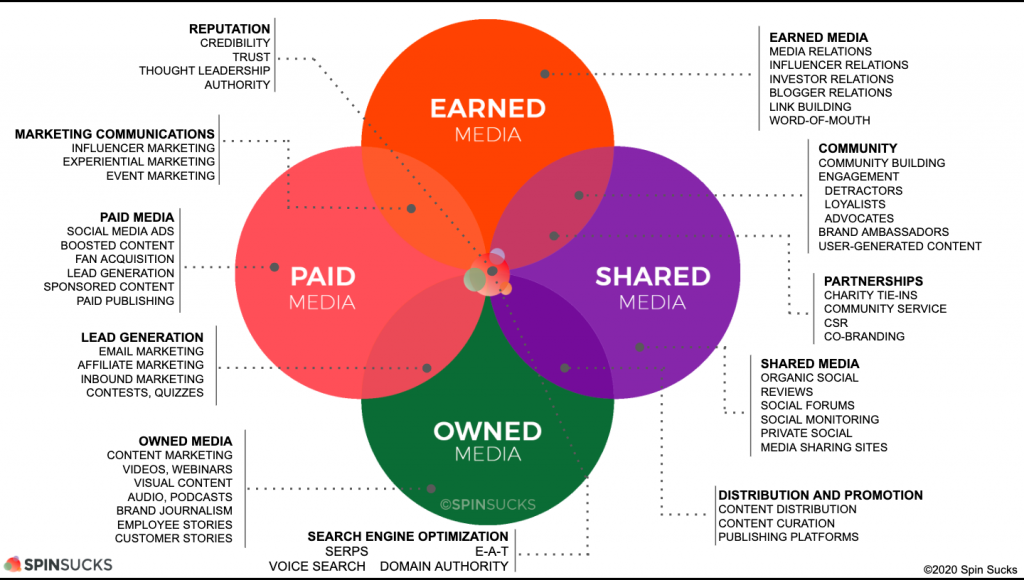 If you want to improve your digital marketing strategy process, you must audit it. It's essential to understand how your campaign functions to know how you can improve it. You'll want to look at three different types of media on your site: earned, owned, and paid:
Earned media -
Earned media is any free media you get for your business. It's publicity that comes from your promotion and advertising efforts. This media is any material or content written about your company that you didn't create.
This media can range from reviews to awards to articles about your business. If you earn an award on Glassdoor for being a top workplace, for example, that's earned media. You can't pay for that spot. Instead, you receive it.
Anytime someone writes praise about your business, and you didn't pay them to say it, it's earned media.
You'll want to audit your current earned media to see how many reviews, awards, and articles you have for your business. By checking this area, you can see what you can do to earn more earned media.
Owned media
Owned media is any media your company owns. It's media that has your name attached to it or any media that you created. This media includes blogs, social media profiles, your website, and any images you produce.
With owned media, you'll want to analyze your current strategies and see if they are working for your business. Are people engaging on your social media profiles, reading your blogs, or spending a long time on your site, for instance?
It's crucial to analyze your owned media to see how it drives results for your business. You can see if you need to make improvements to your owned media to increase engagement on your site.
Paid media
Paid media, as the name suggests, is any media you pay for to advertise your business.
Your paid media mostly encompasses paid advertisements, like pay-per-click (PPC) ads or social media ads. When you run PPC ads or social media ads, you pay to appear in front of leads you think are interested in your business.
If paid media is part of your marketing strategy, you'll want to analyze these tactics to see how they drive results for your business. It's a great way to know if your paid media efforts are currently working.
It's essential to audit your current marketing efforts to know what's driving results for your business. You want to learn what's working and what needs improvement. Inspecting your ongoing efforts will help you set up your new digital marketing strategy for success.
Let's say you're trying to increase conversions by 20% in a quarter, for example.
By looking at your online marketing efforts, you may find that PPC ads are the most effective. To help you reach your goal, you might invest more of your budget into PPC ads.
Auditing also helps you find gaps in your campaign. You may discover that there are places for a new piece of content, a design element that enhances the user experience or optimization that can improve your ranking in search results on Google.
An in-depth audit lets you see which digital marketing efforts work best. You'll have a better understanding of how your campaigns currently work and how you can improve them in the future.
4. Establish your budget

When setting up a digital marketing strategy, it's essential to know how much you can spend and what resources you have for your campaign. You don't want to plan for an online marketing strategy that goes beyond your means.
First, you'll want to establish a budget for your marketing efforts. It's most effective if you create a budget for each campaign. This division ensures that each method has a set budget, and you know how much you can spend on each one.
If you only have one budget for all your marketing efforts, you may end up over-investing into one digital marketing tactic.
Aside from your budget, you'll also want to establish your resources. People are one of your most essential resources. You must determine how many people you have to work on your online marketing campaigns.
Another resource is tools. If you have any marketing tools, like Google Analytics, that help you run or analyze your campaign, you'll want to take those into account towards your budget and means.
Establish your budget and resources, so you know what you have before launching your strategy.
Build your digital marketing action plan and know how Witanworld can help you today
A web marketing strategy is a crucial part of helping your business grow. When you have a digital marketing action plan in place, you'll keep your business focused on achieving your goals.
Witanworld provides an Innovative platform to our clients and business partners which maximises ROI. Our team of over 200 experts will help you implement your marketing strategy and help you drives results for your business.
Comments (0 Comments)