Wondering what is it all about??? Hold on to your hormones.
The queen of several hearts going – #digswirlspread with the Brand Epigamia
Yes it is…….
She brings to you the heavenly mix combining 'Chocolate and Ghee'. You got it right, a spread crafted by Ms. Deepika Padukone in collaboration with a brand Epigamia, owned by the parent company – the Drums Food International
The promise of fresh, preservative free and made with Ghee is what this newly launched chocolate spread by Epigamia delivers.
How was it crafted??
Take a look —
Deepika Padukone commented, " The journey of crafting these spreads has been absolutely incredible and reinforces my belief that taste and health can truly co-exist; without any compromise."
On the launch of the spread, she added "For as long as I can remember, ghee has been a key ingredient in the food we eat. Not just for the way it tastes but also for its goodness. And who can deny being a chocolate lover? So I challenged Epigamia to marry taste and health by bringing together two of my most favorite ingredients!"
About the Brand:
Drum Foods was founded in 2008 by former Wharton alumni Rohan Mirchandani, chef Ganesh Krishnamurthy, Rahul Jain, and Uday Thakkar. Its products are sold through more than 10,000 retail stores, including BigBasket and Amazon, besides retailers spread across Delhi-NCR, Mumbai, Bengaluru, and Chennai.
Currently, Epigamia is available in 20 stock keeping units (SKUs) under greek yogurt, artisanal curd, snack pack, MishtiDoi and smoothies. Launched in June 2015, the brand is retailing across approximately 10,000 touch points, including modern trade chains, e-commerce and general trade retailers
About the marketing strategy:
The celebrity, Deepika Padukone has invested in Drum Foods International Pvt. Ltd, the maker
of the brand Epigamia, as part of a strategic partnership that will also see her endorse the brand.
The investment has been made through KA Enterprises Llp, Padukone's strategic initiative arm. It is part of the Series C round raised by the company earlier in the year 2019
[Padukone had set up KA Enterprises in 2017, to leverage her brand and back businesses ranging from apparel, to now food. So far, the firm has invested in four ventures.]
With this strategic partnership with Deepika, Epigamia, which makes flavoured yogurt, Greek yogurt, smoothies, and mishti doi  plans to expand into new products and foray into new cities.
"Her (Padukone's) involvement will accelerate the pace of reach for our products," said Rohan Mirchandani, co-founder, Drum Foods. As part of the deal, Padukone will own equity in Drum Foods.
Epigamia is also looking to expand its products portfolio. "We have so far not done too much mass media advertisements. But on the basis of our association with Padukone, we are now looking forward to elevating the brand to the next dimension," Mirchandani said. Over the next two years, the company plans to ramp up distribution to 50,000 outlets across more than 25 cities. Padukone's involvement will accelerate that pace, he added.
Deepika, the Brand endorser, the brand ambassador –being featured in the advertisement is also the brand advisor.
Wouldn't you like to satisfy your taste buds with this heavenly mix spread crafted by Deepika. For your #digswirlspread you can now order on www.craftedbydeepika.com
The journey and the product: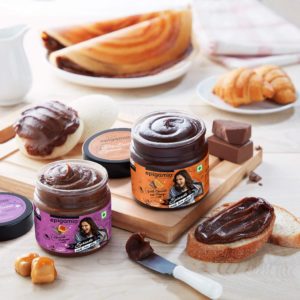 At Epigamia, were they believe in pushing boundaries, Deepika took the onus and really pushed it on to the brand. They hit several roadblocks while creating the perfect product. What you now know as chocolate spreads made from ghee, is the culmination of months of collaboration, ideation and innovation that's been led by the amazing people, both from Epigamia and Deepika's team!"
The spread is available in two distinctive flavours – Chocolate Caramel and Dark Chocolate and Orange. A healthier alternative to everyday spreads, a release said, this range replaces unhealthy fats with Omega-3 rich ghee. The use of this traditional ingredient as a base makes it a guilt-free option compared to other spreads.
Priced at INR 350 and INR 200 for 250gm and 125gm packs respectively, it is Available online.
Are you by any chance an insomniac? No worries, this one has got you some healthy choice!
I am sure you will definitely try this one, especially for those you are Midnight Snack Lovers…..Get yourself a pack before you start drooling.
I haven't heard of such Brand Enthusiast and Celebrity brand enthusiast in the recent times. Have you??
Think over digging swirling and spreading….. With #digswirlspread- Crafted by Deepika
Source:
https://www.indulgexpress.com/food/2021/apr/01/deepika-padukone-and-epigamia-collaborate-to-create-a-range-of-chocolate-spreads-made-from-ghee-32750.html
Comments (6 Comments)