The classification of products and services is essential to business because it provides one of the factors for determining the strategies to move them through the Industry and marketing system. 
Business Products are products that companies purchase to produce their own products or to operate their business. Unlike consumer products, business products are classified on the basis of their use rather than customer buying habits. These products are divided into six subcategories: installations; accessory equipment; raw materials; component parts and processed materials; maintenance, repair, and operating supplies; and business services.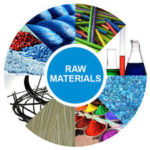 Business products also carry designations related to their durability. Durable business products that cost large sums of money are referred to as capital items. Non-durable products that are used up within a year are called expense items.
Raw Materials – These are products obtained through mining, harvesting, fishing, etc., that are key ingredients in the production of higher-order products.
Processed Materials – These are products created through the processing of basic raw materials. In some cases the processing refines original raw materials while in other cases the process combines different raw materials to create something new. For instance, several crops including corn and sugar cane can be processed to create ethanol which has many uses including as a fuel to power car and truck engines.
Equipment – These are products used to help with production or operations activities. Examples range from conveyor belts used on an assembly line to large buildings used to house the headquarters staff of a multi-national company.
Basic Components – These are products used within more advanced components. These are often built with raw material or processed material. Electrical wire is an example.
Advanced Components – These are products that use basic components to produce products that offer a significant function needed within a larger product. Yet by itself an advanced component does not stand alone as a final product. In computers the motherboard would be an example since it contains many basic components but without the inclusion of other products (e.g., memory chips, microprocessor, etc.) would have little value.
Product Component – These are products used in the assembly of a final product though these could also function as stand alone products. Dice included as part of a children's board game would be an example.
MRO (Maintenance, Repair and Operating) Products – These are products used to assist with the operation of the organization but are not directly used in producing goods or services. Office supplies, parts for a truck fleet and natural gas to heat a factory would fall into this category.
Business Services is a general term that describes work that supports a business but does not produce a tangible commodity. A business operating in an economy does not do so in isolation. Even a business will require some services to function seamlessly. Such services that are provided to business organizations for their needs are called business services.
MANAGING BUSINESS PRODUCTS AND SERVICES

Product management is a process that focuses on bringing a new product to market or developing an existing one. It starts with an idea of a product that a customer will interact with and ends with the evaluation of the product's success. Product management unites business, product development, marketing, and sales. One of the critical activities of product management is creating and documenting a product strategy.
4 stages of Product Management
Actions in product management cascade from strategic to tactical. The whole process of product management can be divided into four stages. Each of the stages may include inbound and outbound activities. A product manager doesn't perform all activities but supervises their implementation.
Vision

Strategy development

Product development

Marketing and sales
Inbound activities focus on product development and include the following:
Setting the vision
Product planning
Product strategy
Testing
Product development
Product launch
Outbound activities are oriented toward the marketing of a product and its sales. This includes branding, sales, and analysis of customer feedback. These activities comprise:
Competitive differentiation
Market research
Positioning
Branding
Customer communication/experience
Customer interviews
Pricing
Promotion and advertising
Distribution and sales
Sales support
Analytics
Vision development
Product vision is a significant part of product management. If we were to compare product management to a road, the vision is both a road sign and a destination: Vision defines the final product and shows the direction towards achieving it. It's not a strategy of product development yet, but this is where the strategy development starts with idea management when a team discusses a new product. The vision can be articulated during a brainstorm or may be based on a backlog of ideas.
When developing the vision, a product manager sets the goals for the product and defines specifications. A well-specified product vision answers the following questions:
   What is the user persona (personas) for the product?
   Which problems will the product solve?
   How can we measure the success of the product?
Strategy development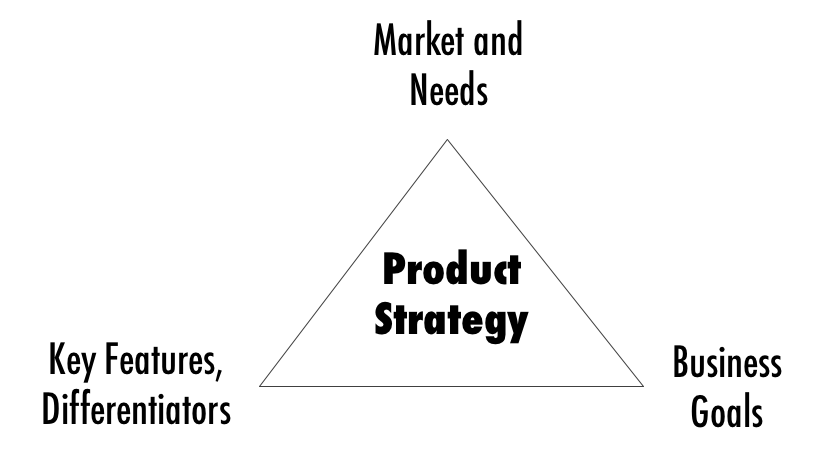 Once you have the vision, it must be translated into a specific strategy. While a vision defines the goals for a product, strategy describes a way to achieve them and sets main milestones. This must be a clear and realistic plan for the team that works on a product.
An effective product strategy defines the main features of a product, users and their needs, and key performance indicators (KPIs) that the product must meet.
Strategy development starts with market research. Market research is a process of information collection and analysis of the market and its present or potential customers. It comprises the study of potential customers' spending habits and their attitude toward products of a similar kind. Market research is made by a company (primary research) or taken from an external source (secondary research).
Secondary research involves already produced data that can be found in statistical databases, journals, online sources, etc. Primary research is adapted to a company's needs and can be either qualitative or quantitative. Qualitative research focuses on defining problems and relevant issues. This incorporates personal interviews, group surveys, and focus groups. Quantitative market research is based on data collection and statistical analysis. It allows a product manager to reach a larger audience and gather general information, while qualitative research provides insight into a problem, identifying wants and needs, as well as possible pitfalls.
Market research is important for new product development, both at the stage of execution and the stage of marketing and sales. By using it, a company can understand what customers want and develop a strategy that will allow for making a successful product.
Strategic Roadmap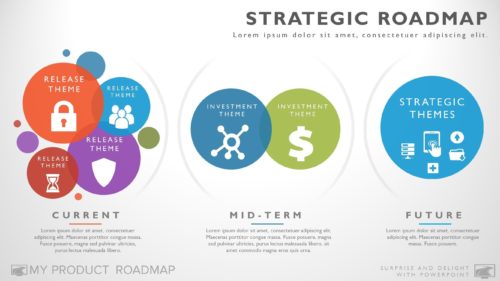 Product strategy is typically documented in a written roadmap form that would allow a team to control the work at all stages. A roadmap is a tool that provides a framework for a team with a timeline and specific actions, illustrates the vision, goals, and the current state of product development.
A good roadmap is clear and serves as a visual guideline for all members of the team. Regardless of the specific roadmap structure, it must depict the current state of things and the next steps. There are different roadmap templates and their formats depend on the number of products (a single or multiple product roadmap) and aspects of product development (goal- or feature-oriented). However, any roadmap must group the items by the sequence of their implementation.  Roadmaps can also be internal or external.
Internal roadmap. An internal roadmap is used on a company level. It shows the vision, short- and long-term goals, as well as connected processes. Teams that work at different stages of product development can track the timeline and stay aware of the upcoming actions. A product manager and a CEO use an internal roadmap to control the progress.
External roadmap. An external product roadmap is usually less complicated and is created for stake- or shareholders, potential and existing customers, investors, etc.
When the strategy is ready, the product manager has to communicate it to the product team and the stakeholders. A product manager has to be focused on customers and stakeholders at the same time. And though a customer always must be a product manager's priority, maintaining efficient working relationships with stakeholders is also important.
Stakeholders have a large influence on product development, being able to cut the budget, or change the timeline. They can suggest implementing product features they find necessary and important, but which are completely useless to users. The product manager's task is to communicate strategy to stakeholders to ensure common understanding of the vision.
Execution and testing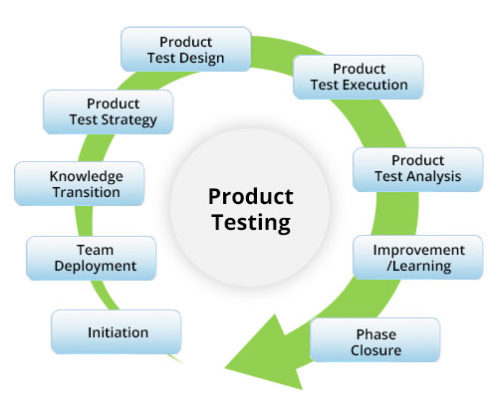 During the execution stage, a product team starts to work on the product itself. They build a new product or add new features to an existing one. Main phases of this stage are product development, internal and external testing, and the application of feedback results. All along the execution stage, a product manager controls the implementation of the roadmap and participates in accompanying activities.
Product development. Product development starts with defining technical specifications, making first prototypes, and a mockup design. While these activities are normally covered by the UX team, a product manager can be involved in writing technical specifications. The product manager's main goal is to identify what the users want and communicate this information to the development team and project manager.
For this purpose, he or she conducts focus-groups and personal interviews with potential customers. Results of these activities allow a product manager to prioritize the necessary and unnecessary features. He/she writes product related documents, for example, a Product Requirement Document (PRD) and Functional Specifications Document (FSD). Learn more about software documentation practices in our dedicated article.
External testing. One of the core responsibilities of a product manager is to define the minimum viable product (MVP) and make sure it serves its purpose. When the MVP is released, a product manager sets up a feedback collection mechanism, gathers the feedback, and alters product requirements based on user input.
A/B testing is one of the most common evaluation techniques. The main idea behind the practice is to choose the product features that are more useful to the customers or enable higher customer engagement. A product manager defines testing scenarios in cooperation with a UX specialist, tracks results, and communicates the changes to the project manager.
To conduct successful tests, a product manager sometimes develops a relationship with potential customers making sure that they will be honest about the usability of a product. While testing, the specialist analyzes the user reaction and, once the hypothesis is tested, the customers' feedback. When the results are ready, a product manager has to convey them to a project manager, so that the developers can prepare the software for launch or introduce changes to the existing product.
Marketing and Sales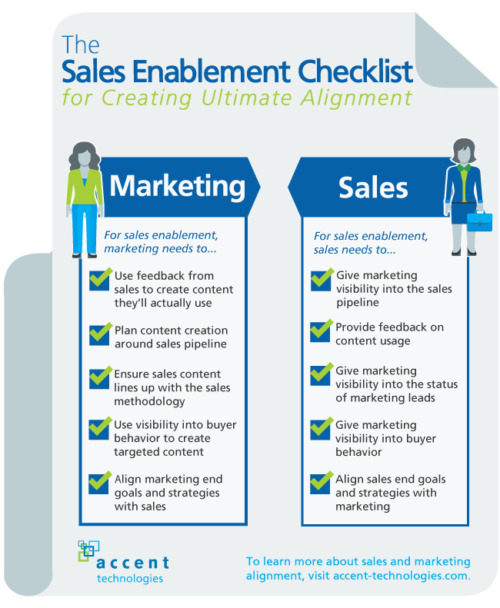 Once the product is completed, it's time for it to enter the market. At this stage, marketing and launch plans have to be finalized, and the sales teams trained to start distribution. Through the whole process, the product manager delivers an operating plan, which aims to track the growth of a product in the market: the revenue, ROI, key customers.
When a product is in the market, the product manager continually analyzes its success: number of users, sales, level of customer satisfaction, and customer feedback. In startups and smaller companies, the product manager may have more responsibilities at this stage. In this case, the product manager can be involved in the following processes:
Writing business and use cases

Configuring the product launch plan and distribution models (more on that in our article)

Specifying the target market

Defining the pricing strategy

Setting sales support and required tools
In larger businesses these activities are usually distributed among executives from the product, sales, and marketing teams.
After the product launch, the manager monitors its progression and reiterates the same steps across its lifecycle. The product manager also analyzes data to understand the success of a product. The number of products sold, customer feedback – all these are analyzed and communicated to the product marketing manager to improve sales and marketing strategy.
Key Roles in a Product Management Team
Every product team consists of several players, including those at the management level. Usually, there are three: a product manager, a project manager, and a product marketing manager.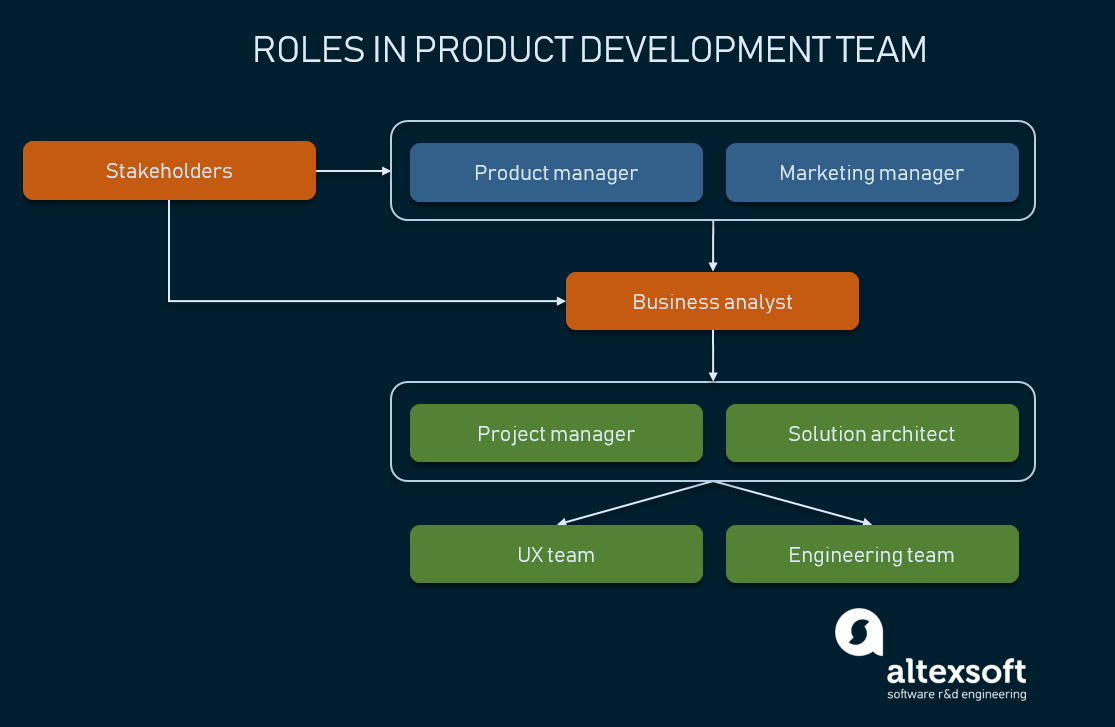 Product Manager: Each manager has one's own responsibilities, limited to his or her sphere of concern. The product manager's role is much wider and includes activities on every level. Let's define the responsibilities of the first two to understand a product manager's role better.
Project manager: This person coordinates the internal process of product development making sure that the project follows a timeline and fits a budget. The project manager tracks progress and coordinates all internal resources and members of the team (engineers and designers) to deliver the product on time.
Product marketing manager is the person responsible for commercialization, branding, and positioning of the product. The Product Marketing Manager provides market research, packaging, sales team training, and planning of promotional activities and events. This person is responsible for:
Defining user persona and learning about the customers

Creating the product's marketing strategy

Communicating the product's value to the market

Developing sales tools for a product
Stakeholders: These are the people who have an interest in the final product, can influence the process of product management and development, and are involved in decision-making. In product management, stakeholders can be clients, investors, even users of a product, or all of them combined.
Their responsibilities are to:
Provide feedback on product ideas

Describe the requirements in details

Contribute new features to the product development

Approve or disapprove product features

Influence decision making and timeline

Identify potential risks and issues in product management

Provide necessary resources for product development

Stay informed about the lifecycle of the product
The product manager is the person who creates internal and external product vision and leads product management from scratch. The product manager develops positioning strategy while working with stakeholders and teams throughout the process. The main responsibilities of the product manager are:
Understand customer experience

Develop vision

Prioritize processes and activities

Develop product pricing and positioning strategies

Negotiate with stakeholders

Build and follow a roadmap

Arrange product testing groups

Drive product launch

Participate in the promotion plan development

Build and maintain product awareness on all levels among product teams
Advanced networking, serverless computing, and intelligent interfaces will reshape business processes in the coming years, according to The report examines how new technologies are currently disrupting industries, but will gradually reshape them in the coming years, a Tuesday press release said.
Ten years ago, Deloitte published its first tech trends report, which focused on the popularity of smartphones and mobile applications, and introduced the emergence of the cloud and Internet of Things (IoT). Those two technologies are no longer new, evolving from emerging tech to necessary tech. Time will tell how 2019's emerging tech will revolutionize the workplace moving forward.
The report identified the following six trends that will redefine the relationship between IT and business:
1. AI-fueled organizations
2. NoOps in a serverless world
Cloud computing is hitting its next stage, according to the release, as technical resources become completely abstracted and management tasks begin to automate. This tech can free IT talent from mundane, time-consuming responsibilities, allowing teams to focus on more activities that affect business outcomes.
3. Connectivity of tomorrow
5G, mesh networks, and edge computing will completely transform businesses' footprints, helping them reach places like warehouses and retail stores, the release said. Connectivity will drive the formation of new products and services, completing tasks more efficiently and effectively.
4. Intelligent interfaces
Intelligent interfaces will continue to transform how humans interact with machines and data, the release said. Computer vision conversational voice, auditory analytics, augmented reality (AR), and virtual reality (VR) have led to a much more human-centered focus in tech—a trend that will only expand in the future.
5. Moving beyond marketing
To create more personalized and contextualized experiences for customers, chief marketing officers (CMOs) are forming closer relationships with CIOs, the report found. New marketing tools and techniques will continue to make customer experiences more dynamic, especially as the partnership between CIOs and CMOs evolve.
6. DevSecOps becomes cyber imperative
DevSecOps will integrally transform cyber, security, privacy, and risk management from being compliance-based to being an essential framework, according to the release.
"While we take a pragmatic view, we also aspire to understand fully how forces like serverless technology, connectivity capabilities, and intelligent interfaces are reshaping industries," Scott Buchholz, managing director and government and public services CTO at Deloitte Consulting LLP, said in the release. "The report details how organizational leadership can shape ambitions and instill a culture to sense and make sense of what tomorrow may bring. And - importantly - a path to get there from the realities of today."
Comments (2 Comments)