Digital twin technology is one of the disruptive technologies in today's digital transformation. This concept involves using a digital replica of assets, processes, and systems to create efficient simulations in a business environment. A digital twin syncs with its physical counterpart, updating and upgrading automatically as the original asset evolves. 

Understanding the Concept

Digital Twins integrate modern technology solutions like Machine Learning, Artificial Intelligence, Augmented Reality, Virtual Reality and Data Analytics to create Unique Opportunities via Futuristic Simulations.  Digital Twins are valuable in the Internet of Things (IOT)

According to Gartner, two thirds of companies are planning on using Digital Twin Technology to support their IoT initiatives.  With Digital Twin Environment set to grow at 37% compound annual growth rate up to 2023. 
The ability to predict behaviors and trends or classify objects based on physical traits is accomplished through AI and ML technologies. With the aid of an Internet of Things (IoT) infrastructure, a digital twin can be created. Developing a digital twin requires the meshing of physical properties with an information communication technology (ICT) framework and software for data visualization. This data visualization represents real world events and characteristics of physical objects and processes.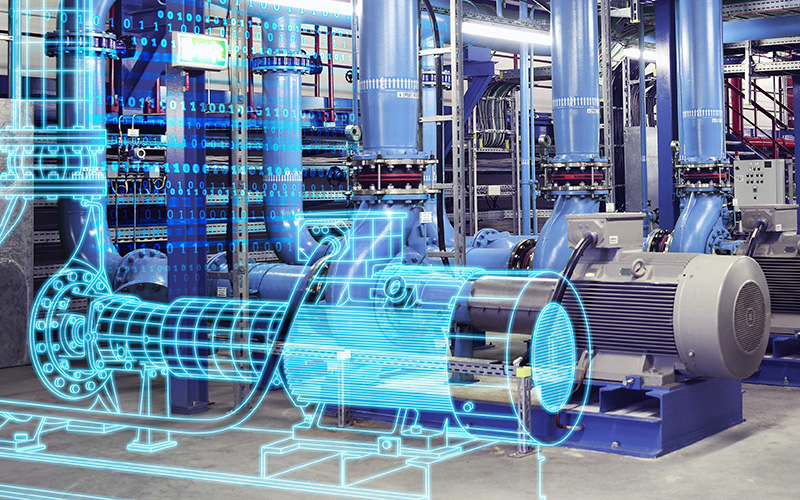 SIMULATION TECHNOLOGIES: The Digital Twin platform is basically code that is usually run on equipment that is entirely different than your average Desktop device, as the amount of data that is continuously being transferred from the physical to the virtual twin is astronomical once you are fully connected. Alternatively, for businesses who are only interested in getting the experience of a demo run, the beta version of the software can be installed on your desktop or acquired as an app for iOS or Android. Once the program has been bought, it allows the user to engage in "digital twinning" (a process where the virtual twin of a physical object is created and connected) that then gives developers the opportunity to monitor both twins and optimize their performance by collecting data that the software provides them.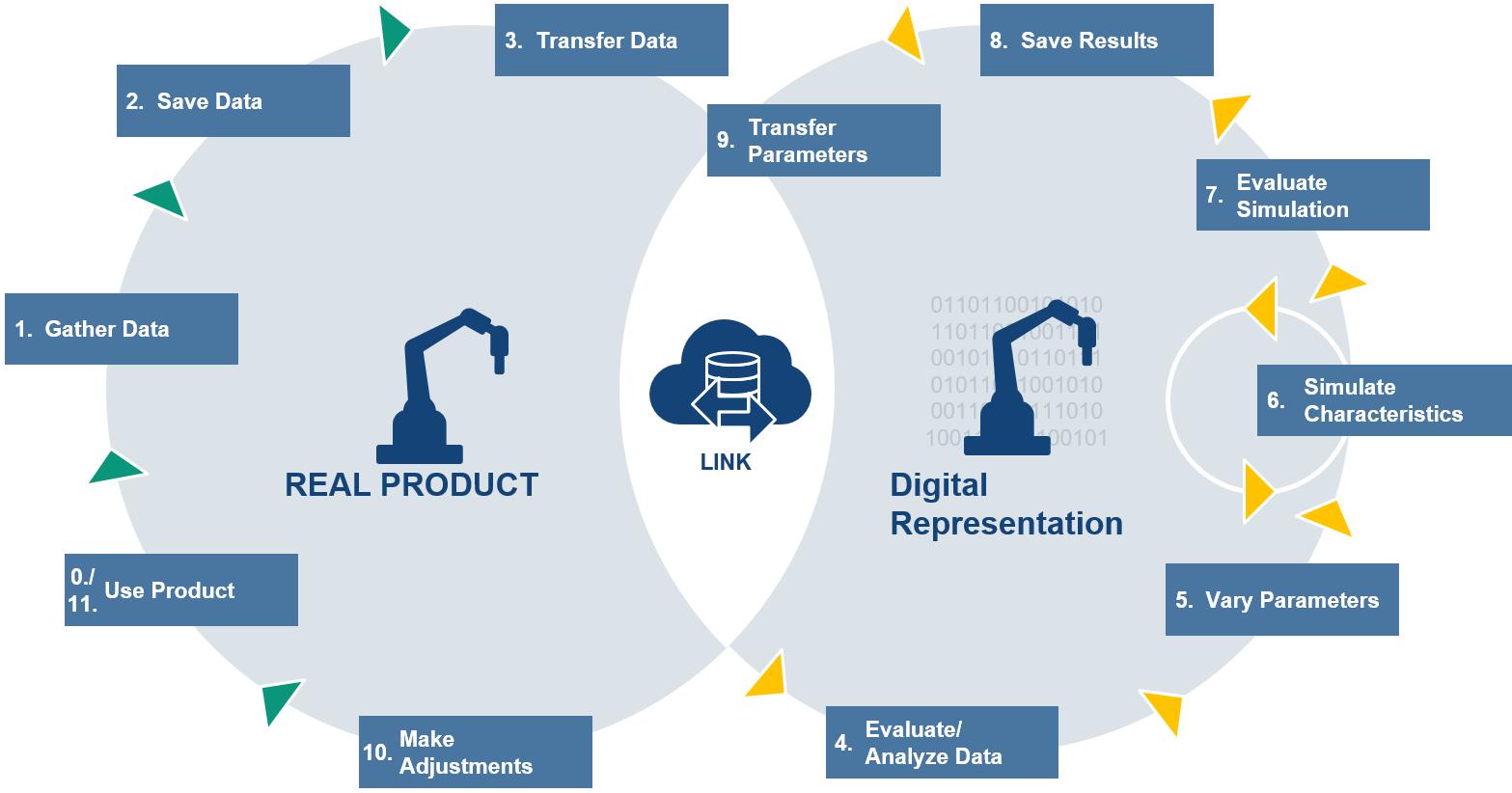 INPUT DATA: Although data can involve many things when it comes to Digital Twin, it mostly boils down to inputs to how the physical twin reacts to changes in the real world (e.g. the weather, exposure to moisture, damage to the object, heat, movement etc.) and information that displays how well the real-world twin is operating in terms of consumer experience.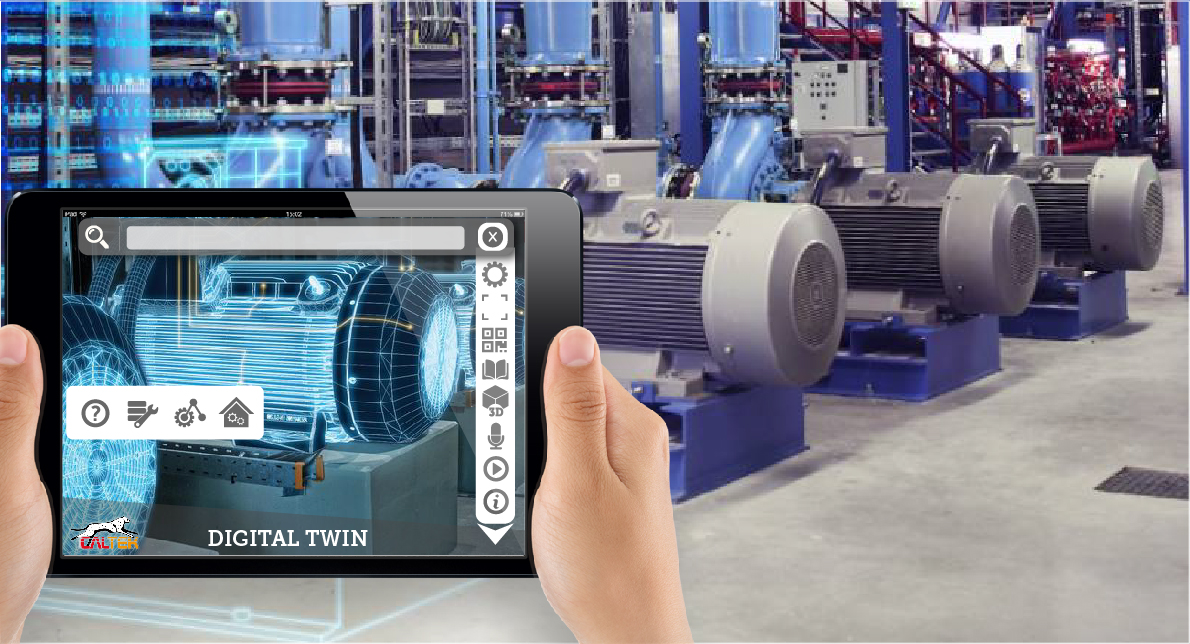 GENERATE SIMULATIONS - AUGMENTED REALITY AND VIRTUAL REALITY: After basic data that indicates how the physical twin operates is collected, developers now have the opportunity to create simulations (virtual representations of the real world and the replicated object) that are based on that data. The simulations can be either future-based or present-based. Meaning, future-based virtual scenarios use the data that has been fed from the physical twin to accurately stipulate how well it will perform and adapt to its environment in months, years or even decades from now. A present-based virtual reality is useful due to its ability to add/remove elements, factors, and limitations in order to find out how the physical twin will react to the changes. This can be useful for determining what exactly affects the deterioration of a product, which will cause irreparable damage to it or what factors will improve the customer experience.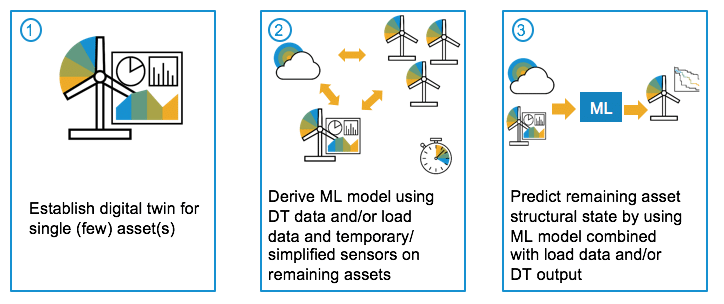 ARTIFICIAL INTELLIGENCE AND MACHINE LEARNING: Finally, developers have the ability to continuously optimize their virtual twin without having to intervene with the process once a sufficient amount of data has been collected. By taking this route of product or service development, the software can use the information it receives from the physical twin and makes decisions that would lead to positive outcomes for the product all by itself. This is the feature that will transform the world of business as we see it as testing and development will become an effortless series of executions that are driven by data.
BENEFITS OF DIGITAL TWIN TECHNOLOGY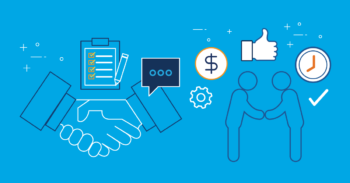 The benefits that digital twin technologies offer your business include:
Increased reliability of equipment and production lines
Improved OEE through reduced downtime and improved performance
Improved productivity
Reduced risk in various areas including product availability, marketplace reputation, and more
Lower maintenance costs by predicting maintenance issues before breakdowns occur
Faster production times
New business opportunities such as mass customization, mixed manufacturing, small-batch manufacturing, and more
Improved customer service as customers can remotely configuring customized products
Improved product quality, and enhanced insight into the performance of your products, in multiple real-time applications and environments
More efficient supply and delivery chains
All the above combined will result in the ultimate benefit of improved profits
Digital Twin adoption and market size will continue to increase exponentially, adoption of digital twins across products, machines and processes continues to skyrocket across enterprises. Industry analysts and consultants agree; Deloitte forecasts the global market for digital twin technologies will reach $16 billion by 2023.

IDC

 suggests 

that 30% of Global 2000 companies will be using data from digital twins of IoT connected products and assets to improve product innovation success rates and organizational productivity, achieving gains of up to 25%.
Transformative impact on the Industrial sector
The nature of selling products continues to change from the factory floor to point of sale to support services, having a correlating impact on industrial companies' business models. 
Manufacturers are already bringing digital twin intelligence to the factory floor; IDC forecasts 70% of manufacturers will use 'digital twins' to conduct simulations and scenario evaluations, reducing equipment failures by 30%. Digital twins can play major roles in other manufacturing use cases including:
Closed-Loop Engineering: Real-world performance data of deployed connected products provide pivotal real-world insight and feedback loop to designers and engineers.
Connected Operational Intelligence: Streamlining operations through twins of the manufacturing process and specific machines on assembly lines reduce production downtime and increase yield.
Predictive Monitoring & Remote Service: Extending value-added services to field technicians through predictive insights improve product reliability, brand reputation and customer satisfaction.
Flexible Business Models: Sales & Marketing teams empowered with digital product information can open additional post initial sale revenue streams.
Increasingly real-time simulations of their physical counterpart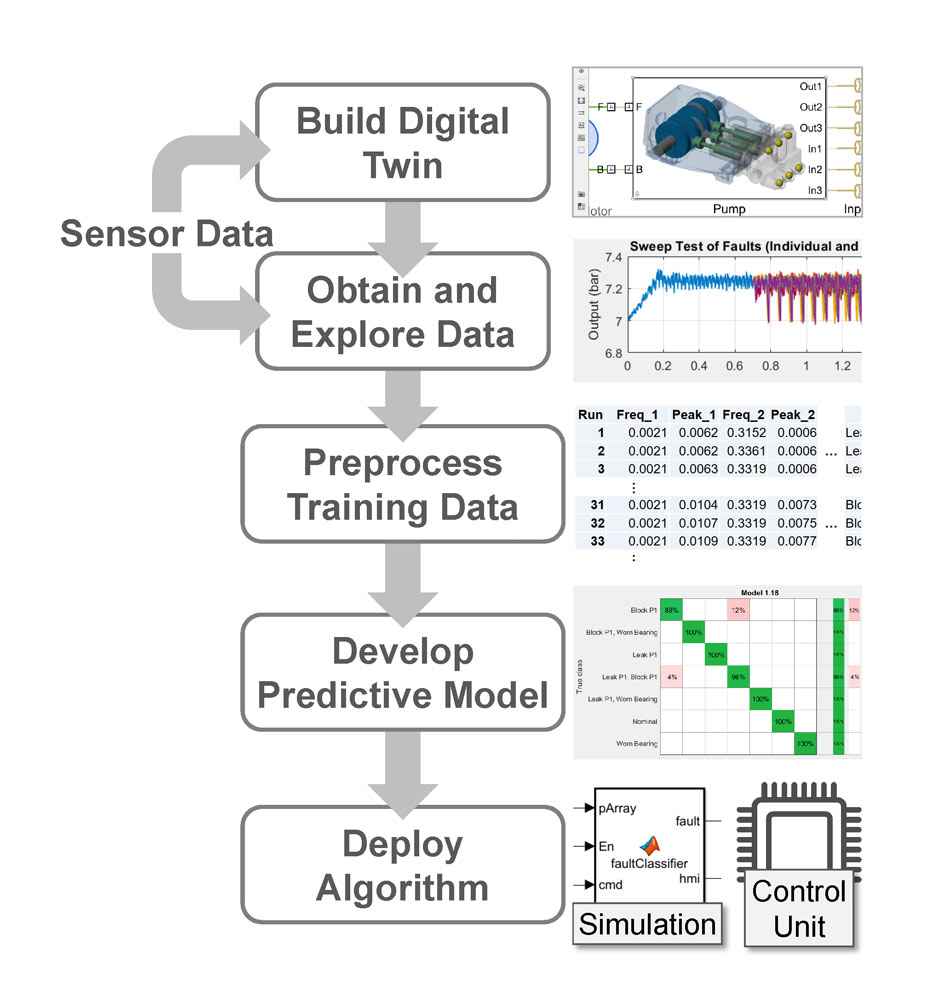 A critical functionality of digital twins will be the timeliness and delivery of increasingly powerful simulation applications. While applying a computer-aided engineering (CAE) simulation algorithm to historical digital twin generates value, there will be enormous opportunities for simulations based on real-world twin data that can be quickly implemented in a production environment or for a smart connected product.
PREDICTIVE MAINTENANCE:
ANSYS
applies its simulation applications to further improve real-time predictive maintenance applications. Further feeding in business system context through integrations as well as environmental data feeds provides an even greater data pool to apply simulation algorithms. Machine and deep learning algorithms will increasingly play a role in comprehending these disparate data sources, unveiling novel business inputs and enterprise-wide strategic recommendations.
INDUSTRIAL IOT: IIoT platforms will also be key to make rapid bi-directional communication and data transmission between the physical system and its digital counterpart. This idea isn't far off the horizon; IDC forecasts that by 2022, 40% of IoT platform vendors will integrate simulation platforms, systems, and capabilities to create digital twins.
Orchestrating networks of Digital Twins

As digital twins multiply across the enterprise and use cases branch out far past ad-hoc deployments, orchestrating different twins with one another will be a giant opportunity for further streamlining business processes. Creating this 'twin network' will require an interwoven digital thread enabled through interoperability across different forms of an organization's twins from products to machines to processes.
This futuristic deployment could look like a service technician equipped with AR glasses viewing a digital twin of a specific machine, on a digital assembly-line sending real-time performance feedback data to the manufacturer's product design team.
Orchestrating these twin networks can unlock many other use cases past universal data access and both 
IDC
and 
451 Research
cite digital twin orchestration as a long-term essential capability.
Comments (4 Comments)