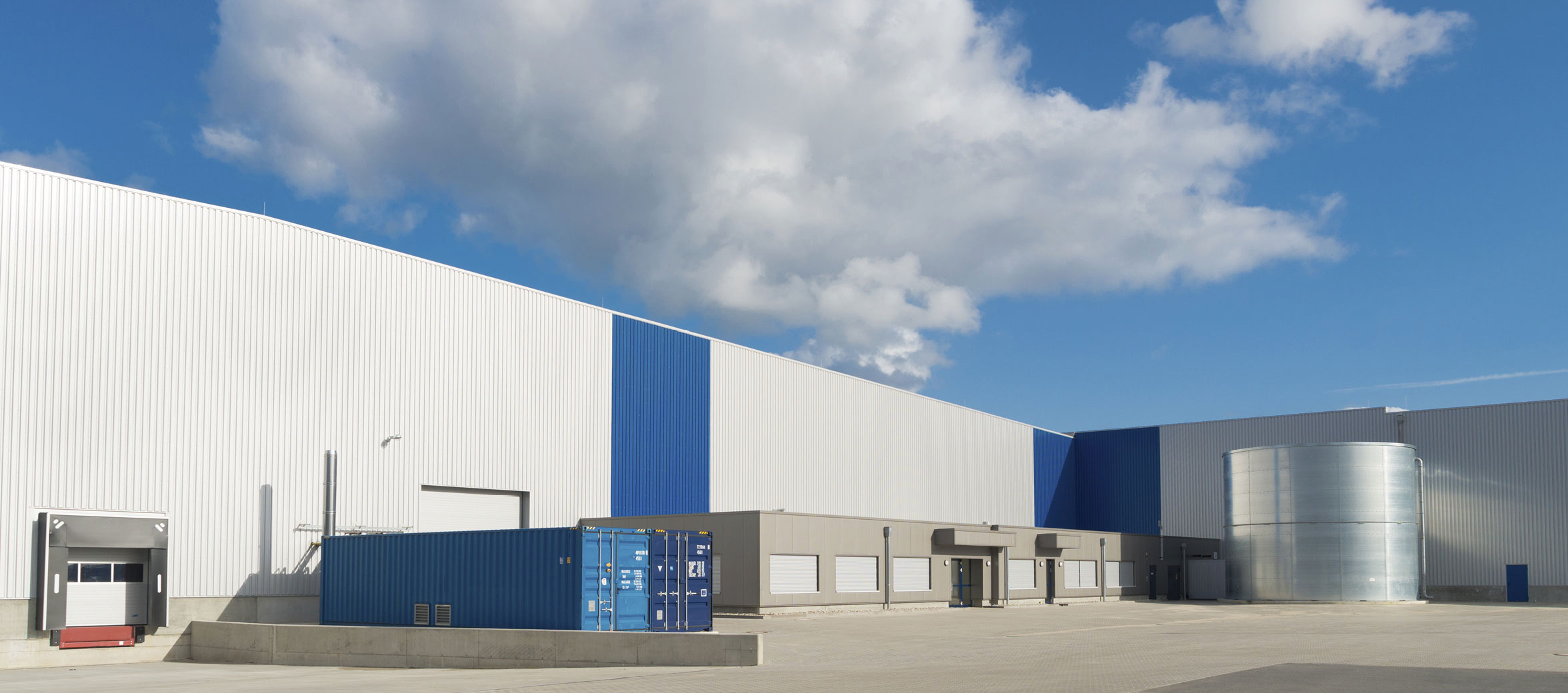 Industrial real estate is a critical component of the global supply chain that keeps the world's goods moving from makers to markets. Consumption, trade, supply chain reconfiguration and e-commerce—all of which are on the rise–are key drivers of industrial real estate demand. Investors turn to industrial real estate for reliable cash flow and resilient valuations.
Industrial real estate is an umbrella term for manufacturing, production, research and development, storage and distribution facilities. While industrial real estate is sometimes overshadowed by sectors like residential, commercial and retail, industrial real estate shouldn't be overlooked as an essential enabler of global commerce and as a resilient, income-generating asset class.
Industrial real estate makes the global economy move. Well-located, high-quality industrial real estate keeps the world's supply chains working, enables trade and e-commerce, and ensures the efficient movement of goods from makers to markets.
Most industrial real estate facilities are dedicated to keeping the world's goods in motion. Very few of the goods in industrial real estate buildings are in storage. Where industrial real estate buildings are used for distribution, their contents are in motion to retail stores, businesses, or end consumers through e-commerce fulfillment channels. Where industrial real estate buildings are used for manufacturing, their operations are often tuned for just-in-time production and distribution that keeps pace with end-user demand—which means relatively little inventory is left sitting in storage.
Types of Industrial Real Estate
There are two basic location strategies for industrial real estate. Much industrial real estate is located adjacent to key transportation hubs – seaports, highway and rail junctions and airports. Increasingly, in response to burgeoning e-commerce and consumer demand for same-day and next-day fulfillment, industrial real estate facilities are located in infill locations within or proximate to large population centers.
The foundation of that knowledge always starts with an understanding of the basics. Here's our rundown of the eight most common types of industrial real estate.
Manufacturing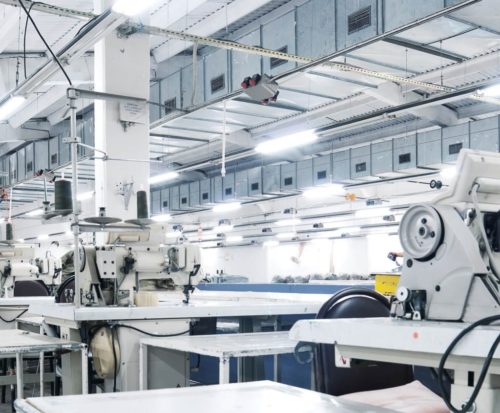 The word "manufacturing" evokes images of giant factories churning out products. And yes, that's true on a basic level. Manufacturing sites are where goods are produced and assembled, and according to NAIOP, they tend to be less than 20% office space, have loading docks for trucks, and clear heights of at least 10 feet. But that leaves plenty of room for variation, as these properties change a lot based on their purpose. Here are the two most common buckets:
Heavy manufacturing - 

These giant plants tend to make heavy-duty goods and materials. They usually have tens or even hundreds of thousands of square feet in usable space, along with powerful pieces of equipment, three-phase electrical power, and plenty of space for trucks to load up product. The exact machinery inside is usually customized to the end user, so heavy manufacturing plants need to be renovated when they take on new owners or tenants. Consider Austral USA, the massive shipbuilding facility in Mobile, AL. If someone else wanted to take over that factory and use it to build, say, cars, they'd need to change up the equipment accordingly.

Light Assembly - These spaces tend to be a lot smaller and simpler than their heavy counterparts. That's because they're usually where products are assembled from smaller parts, stored, and eventually shipped off to be sold to consumers. As such, they can much more easily be reconfigured for different tenants.
Storage and Distribution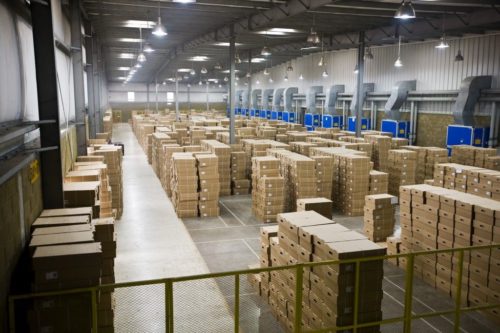 While manufacturing sites are where products are made, these properties are all about how products are moved around and ultimately sent to an end user. Size can vary wildly depending on the type of property, but these facilities tend to be around 20% office space at most. Here are three common types:
Distribution warehouse - As the name implies, these warehouses are primarily used to ship goods, which means location matters. If you want to quickly get your products anywhere in the country, you need to be toward the middle of the country, preferably near an airport. But the size of the occupying company can change that, and impact design as well. For example, Amazon occupies several custom-built, high-tech fulfillment centers around the country (hence why it offers same-day delivery in so many markets), some of which are as bigger than 1 million square feet.
General purpose warehouses -  These warehouses are more geared toward storage than distribution. That difference can play out in several ways. For example, most general purpose warehouses have a lower door to square footage ratio, since products aren't being moved in and out as often. It also means that location matters less than what's being stored there, which is what drives most of the variation in these spaces. For instance, one subset of general purpose warehouses is cold storage facilities, which are equipped with freezers and generally used to store perishable food items.
Truck terminal - On the other end of the spectrum from general purpose warehouses are truck terminals, which are entirely devoted to transportation. They're simply intermediate sites where goods are loaded from one truck to another, and have little to no storage space.
Flex Space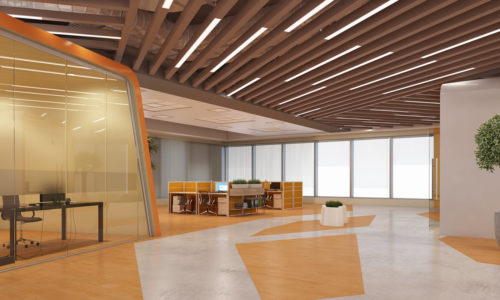 Flex properties are designed to give tenants flexibility in usage, and are generally made up of at least 30% office space. However, there are also more specialized types of flex buildings that serve more specific purposes for industrial tenants:
R&D - R&D refers to research and development, the process by which companies create new products and improve existing ones. R&D properties vary a lot depending on the tenant and what they'll be using the space for. For example, Google's soon-to-open self-driving car project facility will be 53,000 square feet, feature wide open, indoor spaces to test self-driving cars away from prying eyes, and be located near Detroit, which is home to some of the country's best auto talent. The property specifications fit the use case perfectly.
Data Center - Data centers are where companies put the equipment that holds their data, keep their internet up and running, and make cloud storage possible. They average about 100,000 square feet but can get much bigger, the world's largest being a 6.3 million square foot facility in Langfang, China. The reason that size varies so much is that lots of companies choose to lease space in third party data centers.
Showrooms - Showrooms typically have a mix of space devoted to offices, warehousing, and most importantly, showrooms. Typically, more than half of the space is devoted to showcasing and selling products. The most familiar example to most people would be a car dealership, but there are several other kinds of businesses that need showroom space.
Industrial Real Estate - Future Forecast
Here are some of the key forecasts:
Industrial real estate demand is expected to increase by 850 million square feet, to 14.8 billion square feet, by 2023.
Double-digit growth in e-commerce sales will drive demand for industrial real estate.
Rising availability rates and higher cost of capital will lower demand growth, as US economic growth is expected to slow down in 2020.
1.  E-commerce sales expected to drive warehouse demand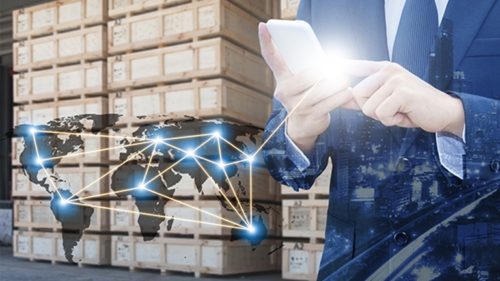 Historically, the manufacturing and retail sectors have driven demand for industrial real estate. More recently, however, e-commerce companies experiencing double-digit sales growth have been taking up space for more warehouses to fulfill online customer deliveries. US Census Bureau data shows from 2012 to 2017, e-commerce sales grew 14.4 percent annually, up from 11 percent during 2007–2012. Furthermore, e-commerce deliveries tripled between 2013 and 2018, prompting companies to seek more urban infill warehouse locations so they can provide faster deliveries to consumers. Industrial space mirrored this trend, as demand growth rose from 0.7 percent annually in the five-year period from 2007 to 2012, to 1.1 percent annually from 2012 to 2017.
Ironically, sales are not the only reason e-commerce companies typically need more space. Product returns fill shelves, too. Customers are three times more likely to return products they bought online versus those they bought at a retail store. And, e-commerce companies need 20 percent more space to manage reverse logistics compared to normal sales. In addition, with e-commerce sales expected to grow at 15 percent annually, reaching 14.8 percent of retail sales by 2023, the number of product returns will increase too, requiring more industrial space.
Along with e-commerce, the rise in real business inventories and elevated gas prices is also expected to contribute to increased warehouse demand. Real business inventories are projected to rise 1.3 percent annually between 2018 and 2023 due to continued increases in consumer spending and improved business confidence, which would require more warehouse space. Gas prices are expected to average US$2.89 per gallon from 2019 to 2023 versus US$2.77 per gallon in the previous five-year period,9 prompting tenants to seek more warehouse space at locations closer to consumers, to reduce transportation costs.
Based on these trends, from 2019 to 2023, our model estimates the demand for an additional 850 million square feet of industrial real estate in the United States—or, in practical terms, roughly the amount of industrial real estate space available in Atlanta and Salt Lake City put together.
2.  Availability rate could rise as more space will likely become available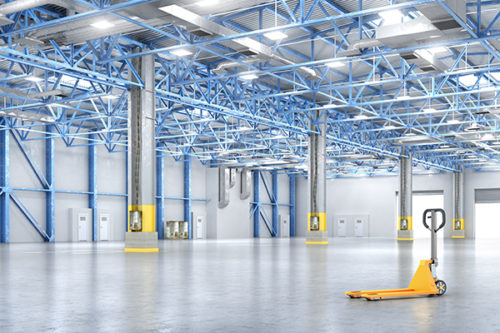 Our model shows demand growth tapering as the availability rate will likely rise from 7.0 percent in 2018 to 10.3 percent by 2023. This is largely because new industrial space will likely become available. For instance, from 2019 to 2020, an additional 510 million square feet of new industrial real estate space is expected to enter the market, outpacing the 421 million square feet of expected additional demand.
Apart from new developments coming into the market, many on-demand warehousing startups, such as Flexe and Flowspace, are aggregating underutilized industrial real estate spaces to fulfill seasonal warehousing needs. In addition, some owners are repurposing vacant or near-vacant nonindustrial real estate spaces to provide more options for renters seeking warehouses in closer proximity to consumers. While retailers are converting stores into smaller showrooms and using the additional space as small warehouses for faster fulfillment, owners of some older office buildings are also converting vacant spaces into industrial real estate. The adaptive reuse extends to underutilized parking lots and garages and even erstwhile churches. The increased availability will likely put downward pressure on industrial real estate rents and prices, though it is outside the purview of our model.
3.  Higher interest rates would increase the cost of capital
Although the Fed has indicated it may no longer raise short-term rates, Deloitte's US Economic Forecast expects some increase in long-term rates as financial markets return to "normal" conditions. That will likely raise the cost of capital. Our model confirms that a higher cost of capital would also lower demand for warehouses, as both tenants and owners might then focus on increasing efficiencies of existing spaces. The cost of capital is expected to increase from 5.1 percent at the end of 2018 to 6.4 percent by 2023.
4.  Capitalize on high-growth areas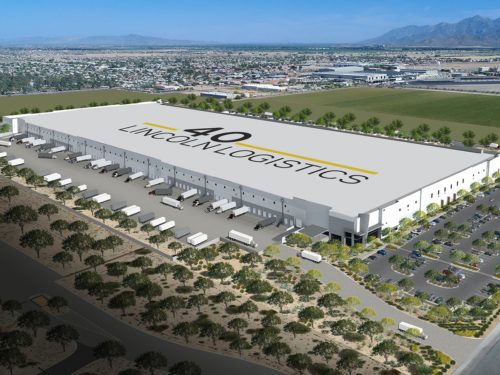 Owners should consider focusing on having a strong portfolio of properties, prioritizing locations closer to population hubs. This can help tenants accelerate last-mile deliveries, as customers are increasingly calling for shorter delivery cycle times. Tenants could also be attracted to locations closer to consumers to reduce transportation costs, as gas prices remain elevated. To have more properties at the right locations, owners should reassess their portfolio and make informed decisions on which properties to retain, sell, and acquire. In the past, owners chose warehouse sites based on historical information about traditional factors such as land costs, labor availability, connectivity to major transportation systems, and tax rates.
However, owners can now leverage newer data sources and analytics techniques to make smarter location decisions. They could combine information about traditional factors with geocoded data points on regional online sales, consumer lifestyle and behavior, and traffic movement. Then, they could use analytics to understand the impact on the warehouse market and build algorithms to predict alternative future scenarios. Owners need not do this alone and can enlist the help of specialist vendors who offer data and analytics capabilities. For instance, firms like eSite Analytics and Esri use spatial analytics capabilities to provide diverse location-based data sets and predictive analytics capabilities to help with sales forecasting, customer profiling, and ensemble modeling.
5. Develop smarter facilities to align with evolving tenant needs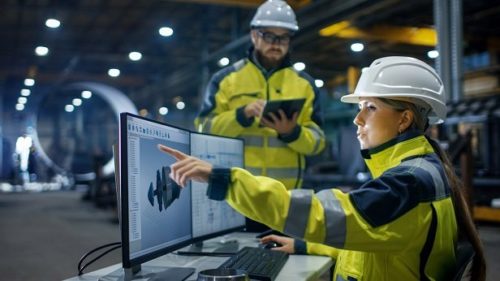 While industrial real estate has lagged other commercial real estate sectors in technology adoption, that could change. Many tenants, especially e-commerce companies such as Amazon, are looking for more technologically advanced facilities. These tenants are often investing heavily in robotics and automation to lower labor costs.19 Today, robots are shifting racks, but it may not be long before robotic hands could pick up exact units, and companies such as Amazon Robotics are working to make that happen. Tenants are increasingly using automation to assist in both outgoing deliveries and product returns. Further, many tenants are looking to have smaller spaces spread across key customer markets, instead of having few large spaces serving many markets.
Warehouse owners can help tenants by providing seamless connectivity within and outside their facilities and making spaces conducive to robot movement. This may not require significant structural changes to properties. Owners can also provide more multitenant spaces, answering the call for smaller spaces in more locations. While smarter facilities could stand out favorably in the marketplace, tenants would likely pay a premium for these facilities, even during times of increased supply and competition.
6. Improve efficiency in warehouses to manage rising costs
Industrial real estate owners can focus on improving efficiency as cost of capital continues to rise. Consider this: More than 30 percent of US warehouse buildings are over 50 years old and the average age of all warehouse properties is 34.21 As most of these properties were built to accommodate different types of tenants and offered different capabilities, they may not be very convenient and efficient to operate today. But to improve efficiency, owners cannot only rely on newer developments; they will likely need to upgrade and retrofit older properties as well.
Owners could improve designs and structures to enable more efficient storage, even as business inventories continue to rise. For instance, they can add state-of-the-art features, such as higher ceilings or multilevel facilities for dense and more efficient storage, and more cross-docks and doors to facilitate faster deliveries. Finally, as tenants are increasing their use of technology, owners will likely need to improve connectivity with energy grids to provide more reliable power and could invest in renewable energy sources, such as rooftop solar power. Focusing on these aspects may not only enhance the efficiency of individual properties but the entire supply chain as well. Ultimately, owners' success in this market could be determined not only by about having more warehouses, but by also creating more efficient and sustainable ones.
Comments (2 Comments)