Robotic process automation (RPA) is a technology solution used to create, deploy, and manage software robots that emulate humans actions. These software robots can do things like navigate systems, identify and extract data, and perform a wide range of defined actions. Software robots perform repeatable actions faster, with higher consistency and accuracy than people.
Benefits of RPA
Robotic process automation is widely used to automate workflows, faster execution of repeatable activities. It can increase employee satisfaction, and productivity by removing mundane tasks which are lower value.
RPA is noninvasive and can be rapidly implemented to accelerate digital transformation. And it's ideal for automating workflows that involve legacy systems that lack APIs, virtual desktop infrastructures (VDIs), or database access.
Advanced Robots can perform cognitive processes, Text Recognition and Interpretation, understanding unstructured and conversational data and use machine learning models to support complex decision making.
RPA is not AI; AI is not RPA. But the combination of RPA and AI unlocks massive new possibilities for enterprises. For one thing, RPA technology now makes it possible to insert advanced AI skills in the form of machine learning models, natural language processing (NLP), character and image recognition, and more into RPA robots. Giving robots these AI skills dramatically expands their ability to handle cognitive processes that require things like:
Understanding documents including semi-structured or unstructured data

Visualizing screens (including virtual desktops)

Comprehending speech and carrying on conversations and chats
AI is also making it possible to scientifically discover a complete range of automation opportunities and build a robust automation pipeline through RPA applications like process mining.
And at a time when companies need to accelerate their integration of AI into front-line activities and decisions, many are finding that RPA can serve as AI's 'last-mile' delivery system. Robots can be configured to apply machine learning models to automated decision-making processes and analyses, bringing machine intelligence deep into day-to-day operations.
RPA - High Potential Business Processes / Areas
RPA is driving new efficiencies and freeing people from repetitive tasks across a broad industries and processes. Industries ranging from Financial Services to Healthcare to Manufacturing to the Public Sector to Retail and far beyond.  All are seeking to implement RPA in areas as diverse as finance, compliance, legal, customer service, operations, and IT. And that's just for starters.
RPA has become widespread because it is broadly applicable. Virtually any high-volume, business-rules-driven, repeatable process is a great candidate for automation—and increasingly so are cognitive processes that require higher-order AI skills.
BUILDING THE FRAMEWORK

Structuring Implementation (Show, don't tell)
To get rolling on your automation journey, you need to prove out automation's value to the organization with a strong proof of concept (PoC), build out your initial team and your technology foundations, and move out to capture the best initial opportunities. Here's what's involved.
Companies don't often jump into automation with both feet—they want to test the waters first. So if you want to move automation forward in your company, you'll need to prove out its value.
A good way to demonstrate the power of automation is to complete a PoC. Make sure it focuses on a specific process and pain point, and clearly demonstrates how RPA can improve efficiency, throughput, and overall performance.
Tell everyone—particularly senior management and the C-Suite—about your great PoC results, so that you can secure the commitments you'll need to establish your initial automation center of excellence (CoE) and move forward on additional projects.
Governance Framework
STAGE - 1: In Stage 1, you'll want to lay the groundwork for a scaled-up automation effort.
Set up a center of excellence - Stage 1 is when many organizations establish an automation CoE to take responsibility for developing, deploying, managing, and measuring automation projects across the enterprise. (Some companies disperse automation specialists into different functional areas—but we believe a CoE makes scaling and end-to-end automation much easier and recommend it as a best practice).
Create a core team - Get started with a small number of skilled RPA developers and perhaps an implementation manager. As your successful track record grows, so will your team, expanding to include more RPA developers and implementation managers, plus solutions architects, business analysts, and more.

Establish processes and roles - Now's the time to clarify who does what, the way automation projects get done, the selection criteria you'll use to build your pipeline, and the documentation you'll need to move forward. Also, take the time to set out your plan for maintaining quality and measuring impact.

Select the technology platform that can support your vision - If you're committed to a full-scale RPA journey that ends in organizational transformation, you'll need an automation platform that can move you from discovering RPA opportunities to building automations to managing and measuring them.

Go wider, higher, deeper by automating key cross-enterprise processes
STAGE - 2: In Stage 2, you'll focus on capturing the immense value of top-down, across-the-enterprise initiatives as you transform how major processes are executed. You'll extend the capabilities and throughput of the automation function and expand the types of processes you can automate.
Zero in on top-down, transformative projects - In Stage 1, you focused on capturing the ripest pipeline opportunities: easy-to-implement automations with high ROI. In Stage 2, you'll take on big, complex cross-enterprise processes and develop bigger, more complex automations. You'll be touching core systems, important functional areas, and key enterprise activities. You'll embrace the notion of continuous process improvement. And enhance your abilities to launch, manage, monitor, and measure a large digital workforce continually executing critical processes. Your work will likely affect the work of hundreds or even thousands of employees, not to mention customers and suppliers. And, of course, the bottom line.
Extend your RPA skills and capabilities - To handle complex, cross-enterprise automations and expand the types of use cases you can handle, you'll need a team that can understand business processes, architect elegant solutions, and integrate these automations into existing operations. That means you'll need to expand your team, hiring great business analysts, infrastructure engineers, and implementation managers.

You'll also want to bring in developers and solutions architects who can build "intelligent automations" that leverage AI and machine learning and include advanced capabilities like automated chatbots and document understanding.

Expand CoE capacity and throughput - With all the new talent you've brought on—and with all these big plans on your plate—it's time to build a big, humming automation factory that can truly scale automation across the entire enterprise.
One critical component: build the capability that allows you to reuse automations across your organization. For example, it's better to have a single, high-performing automation for auto-filling forms rather than five or six different ones. Re-use will help you accelerate development and improve automation quality across the board.

To support it, you'll need technology that lets people store, search, and share automations.

Measure to support continuous improvement - You remember the metrics and assessment approaches you developed in Phase 1? It's time to put them into action—so you (and the rest of the organization) can see how well you're performing on:

Technical issues like robot uptime and accuracy

ROI and improved business processes

This feedback loop is critical in helping support continuous improvement of your automation efforts.

Until now, you've mainly focused on capturing big, top-down opportunities to use automation to transform cross-enterprise processes.

But you haven't yet addressed the "long tail" of opportunities to use automation to improve thousands and thousands of day-to-day activities. Separately, these processes might not seem like much—but taken together, they really add up.

That's why the most automation-forward companies give all their employees their own software robots. And why you should, too.
Make sure your technology can handle Stage 3 demands
STAGE - 3:  Stage 3 places a whole raft of new requirements for your automation platform. Now, it'll have to be able to manage all these individual robots and deal with a flood of new bottom-up activities. It should offer centralized testing and validation to maintain quality and compliance. And it needs to maintain a library of good new solutions and allow these solutions to be shared.
You'll want to use the same technology platform to deliver both flexible digital assistants and end-to-end fully automated processes—one with robust tools that help the CoE control, manage, test, and govern all automations.
FUTURE TRENDS
When we look at RPA statistics, 2021 saw a massive increase in RPA investments worldwide. It includes pilot programs and the full implementation of new automated workflows. As more companies invest their money in this technology. Also, recognizing RPA trends will be important for companies that want to get the best return on their investment.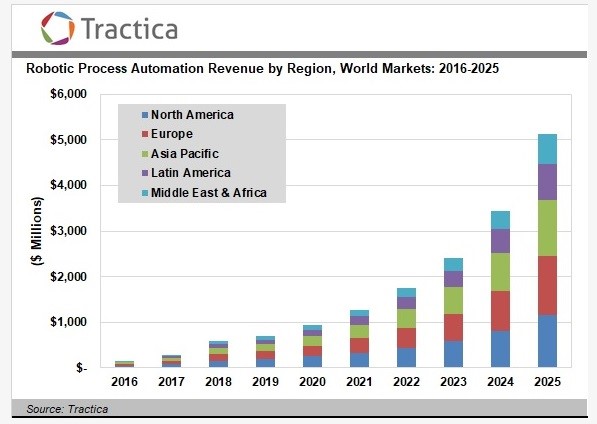 Focus on Safety - As use cases expand outward from pilot programs and RPA is used in internal and external processes, security must be a high priority. Further optimization through robotic process automation will mean that companies will have robust data sets available to obtain key insights. Please note that this data must be protected. Whether it's to ensure confidentiality in industries like healthcare or to protect customer data from hackers and identity thieves, the security framework around your processes must meet the highest industry standards.
RPA Trends will Continue to Show Strong Growth - Although the mobile app development agency states benefits of RPA may lag as organizations struggle with constant repair cycles. And automation downtime, the priority and accelerated maturity of RPA programs. However, in response to the pandemic will continue as companies maintain the mantra of doing more with less. 2020 can be defined as the year of Robotic Process Automation appropriation. So, it is safe to say that 2021 will be the year that organizations will seek to get it right and shift their focus towards better design, planning and delivery of automations. However, it delivers the returns in which the technology was sold.
Greater influence for IT - In 2021, the attempt to make automation accessible to the citizen developer has exposed damaging problems with the fragility of automation, security, and value delivery. The answer will be greater leniency in IT to assert greater ownership of shared automation and contribute. Its technical expertise on the limitations of automation and the complexities of robust RPA development and delivery.
Scaling RPA will remain a Challenge - This year, RPA trends passed the pilot stage with companies that are committed to automation. However, organizations will struggle to scale RPA across the enterprise to leap pilot projects to a sizable digital workforce. The inability to scale will primarily result from the significant maintenance and RPA support load required to service the considerable portfolio of automations they have in production.
Cloud & RPA-based Applications - As RPA scales and its use expands to more cloud-based applications, the complexity of RPA workloads will increase. As a result, it won't be strange to see bot workload sharing across platforms and multi-RPA vendor orchestration. RPA ROI will continue to increase as more companies increase RPA uptime to get the most value from their bots. Maximizing the use you can get from RPA is the definition of working smarter, and the benefits will be clear.
Accept the Change - Looking at the latest trends in RPA, it is clear that any company that has resisted embracing automation up to this point is behind schedule. RPA is key to getting the most out of your team and optimizing processes in a growing number of business areas. Even though some companies had slightly bumpy roads with the implementation of RPA. The availability of competent and knowledgeable RPA providers is expanding. And as more companies embrace industry best practices. The kinds of problems some people had when incorporating automation last year will essentially be a thing of the past.
Intelligent Processes - While RPA trends were adopted in 2020, it is likely that in 2021 RPA will be more fully integrated with artificial intelligence and machine learning tools. The distinction between bots like software and digital workers will become more apparent. RPA bots will focus on tasks based on rule-based logged processes. Meanwhile, AI that mimics human action will help perform more complex tasks. This will also help connect islands of automation and help achieve more seamless process automation and interconnectivity between departments. Additionally, RPA's increased cognitive AI app development will avoid bottlenecks. However, that can arise if a UI change is not immediately programmed into the rules that a bot follows to achieve its purpose.
Focus on RPA uptime - In 2020, companies learned the hard way that automating more processes does not necessarily translate into automation success. So in 2021, organizations will maximize RPA uptime and bot availability to capture the full expected business value of their automations. Expect this metric to be front and centre of analytics dashboards and reporting reports for all automation teams.
The Rise of RPA CoE - The heavy burden of RPA maintenance and support will see more organizations follow automation best practices and establish RPA Centers of Excellence (CoEs). The increased growth and popularity of RPA CoEs will serve to better standardize and govern RPA to minimize bot errors, maintenance, and lost business value when bots are taken out of production.
More Acquisitions in the Automation Space - Consolidations and acquisitions will increment in 2021 and will keep on expanding for the following three years. Automation vendors will move to unite their foundation to address all aspects of the robotization esteem chain usefulness, stopping to offer the best standalone capacities.
Comments (0 Comments)