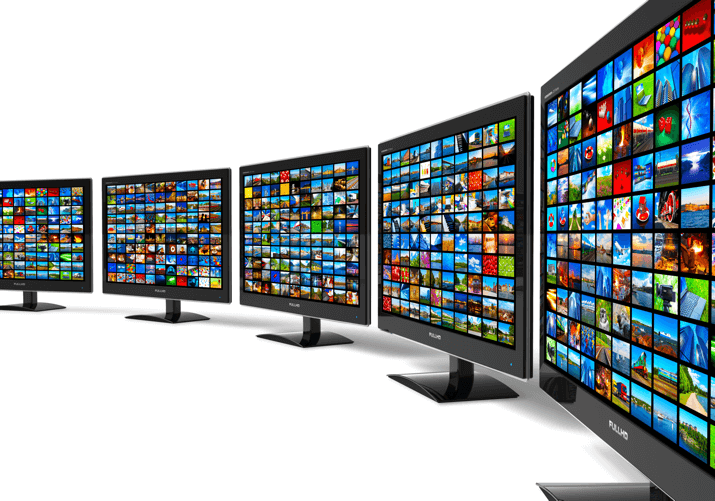 Top 10 Cable TV Companies in the World

Cable television is a system of delivering television programming to consumers via radio frequency (RF) signals transmitted through coaxial cables, or in more recent systems, light pulses through fibre-optic cables. This contrasts with broadcast television (also known as terrestrial television), in which the television signal is transmitted over the air by radio waves and received by a television antenna attached to the television; or satellite television, in which the television signal is transmitted by a communications satellite orbiting the Earth and received by a satellite dish on the roof. FM radio programming, high-speed Internet, telephone services, and similar non-television services may also be provided through these cables. Analog television was standard in the 20th century, but since the 2000s, cable systems have been upgraded to digital cable operation.
Below is the List of Top 10 companies as on 2020.
| | | | |
| --- | --- | --- | --- |
| S.No | Company Name | About the Company | Official Website |
| 1 | Comcast – Xfinity | Xfinity is a trade name of Comcast Cable Communications, LLC, a subsidiary of Comcast Corporation, used to market consumer cable television, internet, telephone, and wireless services provided by the company. The brand was first introduced in 2010; prior to that, these services were marketed primarily under the Comcast name. | https://corporate.comcast.com/company/xfinity |
| 2 | DirecTV | DirecTV is an American direct broadcast satellite service provider based in El Segundo, California and is a subsidiary of AT&T. On July 24, 2015, after receiving approval from the United States Federal Communications Commission and United States Department of Justice, AT&T acquired DirecTV in a transaction valued at $67.1 billion. | https://www.directv.com/ |
| 3 | Dish Network | Dish Network Corporation is an American television provider based in Englewood, Colorado. It is the owner of the direct-broadcast satellite provider Dish, also still commonly known as Dish Network.The company revenues for FY 2018 were $13.6 billion. | https://www.dish.com/ |
| 4 | Dish TV | DishTV – Asia's largest Direct to Home Entertainment Company is the pioneer when it comes to digital entertainment. The innovative offerings and revolutionary features of DishTV have earned it a prestigious place of being World's third largest DTH company. | https://www.dishtv.in/ |
| 5 | Sky TV | Sky UK Limited is a British broadcaster and telecommunications company that provides television and broadband Internet services, fixed line and mobile telephone services to consumers and businesses in the United Kingdom. It is the UK's largest pay-TV broadcaster with 12.5 million customers as of 2018 and its digital satellite TV platform was the UK's most popular digital TV service until it was overtaken by Freeview in April 2007. | https://www.sky.com/ |
| 6 | Tricolor TV | Tricolor TV (Russian: Триколор ТВ) is the Russia's largest direct-to-home provider based in Saint-Petersburg and has broadcast two hundred TV channels in the European part of Russia and Siberia since 2005.  Tricolor TV is the Russian pioneer of UHDTV broadcasting also. | https://www.tricolor.tv/ |
| 7 | Charter – Spectrum | Charter Communications, Inc. (NASDAQ:CHTR) is a leading broadband connectivity company and cable operator serving more than 29 million customers in 41 states through its Spectrum brand. Over an advanced communications network, the company offers a full range of state-of-the-art residential and business services including Spectrum Internet®, TV, Mobile and Voice. | https://www.spectrum.com/ |
| 8 | Airtel Digital TV | Bharti Telemedia Limited d/b/a Airtel digital TV is an Indian direct-broadcast satellite service provider owned and operated by Bharti Airtel. Its satellite service, launched in October 2008, transmits digital satellite television and audio to households in India. It has a total subscriber base of 10.07 million as of 30 March | https://www.airtel.in/digital-tv |
| 9 | Verizon Fios | Verizon Fios, also marketed as Fios by Verizon, is a bundled Internet access, telephone, and television service that operates over a fiber-optic communications network with over 5 million customers in nine U.S. states. The name, Fios, is an acronym for Fiber Optic Service. | https://www.verizon.com/home/fiostv/ |
| 10 | Cox  | Cox Communications (also known as Cox Cable and formerly Cox Broadcasting Corporation, Dimension Cable Services and Times-Mirror Cable) is an American company that provides digital cable television, telecommunications and Home Automation services in the United States. It is the third-largest cable television provider in the United States, serving more than 6.2 million customers. | https://www.cox.com/residential/tv/watch-tv-online.html |